Want to offer the best perks in town? Feed your team like they work in Silicon Valley? Monumental Pantry Service will stock your break room with all the yum your team could ever want.
Unlike our Open Door Markets, Monumental Pantry Service provides a fully stocked kitchen or break room at no cost to your team. Just pick your pantry items, and we'll make sure you've got everything you need to thrive.
contact us
Tell us what you want to spend, and we'll create an awesome spread that makes everyone smile.
Whether you want to focus on health or accommodate the gluten- or sugar-free, we offer what you need.
Office Pantry Service Tysons, VA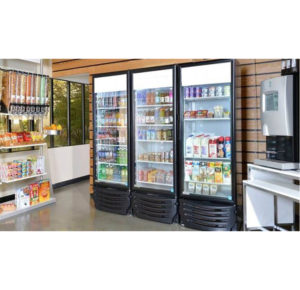 Creating a Healthy Breakroom Spread from Scratch
At Monumental Markets, we believe in helping workers fuel in ways that allow them to do their best work during the day. Our Tyson, VA office pantry service stocks your breakroom so that workers don't have to waste any time or energy figuring out how to stay energized or digging for pocket change in order to pay for snacks. Our Monumental pantry service allows you to choose the snacks that make up your breakroom spread. This spread is then offered to employees at no-cost to them, so that they can grab a bite at any time and head right back to work without having to navigate the hassle of long cashier lines and taking time out of their day to pay separately every time they need something to munch.
Variety is the Spice of (Work and Home) Life
Allowing our Tyson, VA office pantry service to offer your workers a variety of healthy and filling snack options at all times promotes a healthy lifestyle both at the office and away from the office. When workers get used to eating fruit, healthy protein bars, yogurt, nuts, hummus, veggies and healthy drinks at work, they are going to be more likely to grab these options at home. These healthy eating habits help to reinforce the lessons that your office wellness programs are likely working overtime to communicate effectively. Also, because the variety of healthy snacks provided by our Tyson, VA office pantry service are free to your employees, they are more likely to take advantage of these offerings than they might be if they were paid options offered alongside unhealthy fare.
Allow Us to Stock Your Breakroom in Ways that Promote Your Company's Values
If you are thinking about providing a variety of healthy and filling snacks for the benefit of your employees at no cost to them, your company's values are clearly concerned with the wellbeing of your employees. Your company understands that before it can expect the best from your workers that your workers need to expect the best from your company. Your company understands that taking excellent care of your employees inspires productivity, high levels of morale, company loyalty and a host of other critical and meaningful foundations for everything that your business stands to gain from its presence in the broader marketplace. Let our Tyson, Virginia office pantry service help to support the manifestation of your company's values. Call us today to discuss how we can help your employees fuel in ways that promote their wellbeing specifically and the wellbeing of your company generally. We look forward to speaking with you. 
Foods to Include in Your Office Pantry
Your employees keep your business running, so it's important to show them that you care about them. A great way to do this is to stock the office pantry with plenty of foods with the help of an office pantry service in Tysons, VA. When they get hungry in the middle of the workday, they can just head to the kitchen and get a snack. Having access to healthy foods can give your employees more energy, improve their focus and boost their moods. If you work with an office pantry service in Tysons, VA from Monumental Market, you can have these foods delivered right to your office.
Here are some foods you may want to include in your office pantry:
Protein Bars
It's quite common for employees to get hungry in the middle of the day, especially if they didn't eat that big of a breakfast or lunch. Protein bars can tide them over until dinnertime. As their name suggests, protein bars are packed full of protein, so they will keep your employees full for hours. They come in a variety of different flavors, including chocolate and peanut butter, and can stay in the cabinets for weeks without going stale.
Fruit
Fruit is a great option for employees with sweet tooths. They contain natural sugars and can prevent employees from reaching for cookies and other unhealthy sugary snacks. Fruit is a great snack to have between meals and tastes absolutely delicious. Have plenty of fruit options for your employees, like apples, berries, pears, oranges and bananas. Quality office pantry service in Tysons, VA includes a variety fruit options.
Healthy Beverages
While water is the best thing to drink, employees might not want to have it all the time. They may get a craving for something different. To prevent them from reaching for something unhealthy, like soda, provide several healthy beverage options. For example, you can stock the refrigerator with tomato and other vegetable juices. They have a lot of nutrients and don't contain as much sugar as fruit juices.
Yogurt
Yogurt is another great food to make available to your employees. It's packed with probiotics, vitamins and minerals and can help with digestion, immunity and bone health. Try to stay away from yogurts with high amounts of added sugars. If employees want to add some sweetness to the yogurt, they can always put some fruit on top.
Nuts
Nuts make a great healthy snack option for your employees because they contain healthy fats, protein and vitamin E. Eating a handful of almonds or walnuts will help your employees ward off hunger until their next meal. An Office pantry service in Tysons, VA can help provide your office with these energy improving superfoods.
Vegetables and Hummus
Everyone knows that vegetables are one of the most nutritious foods out there. However, vegetables can sometimes be bland by themselves. That's why you should provide your employees with hummus as well. Hummus is derived from chickpeas, so it's much more nutritious than other vegetable dips.
Now you have a better understanding of how healthy foods can affect your employees' productivity and health. Contact Monumental Markets, an office pantry service in Tysons VA, today to get these foods delivered to your office.
Why You Need an Office Coffee and Pantry Delivery Service
If you're an office manager or business owner, you may regularly make trips to the grocery store to keep your office kitchen or break room well-stocked with a variety of coffees, beverages, and supplies. With an office coffee delivery service, you'll never have to think about keeping your office kitchen supplied or transporting supplies again. Monumental Markets has served its customers for many years and their businesses have come to depend on our Markets, Coffee, and Pantry services in Tysons, VA. We provide next level beverages and snacking to offices, buildings, and all sizes of businesses across the area.
Through offering a variety of healthy and locally-sourced options for you to choose from, our coffee and office pantry delivery service in Tysons, VA works within your needs to create the in-office experience that best supports you and your team. You'll be impressed with our wide variety of products and our reliable delivery service. When you set up a regular delivery schedule with us, your kitchen will always be filled with an excellent selection of coffee supplies and associated items. You have a lot to worry about in your office, so let a coffee delivery service take over—and you'll have one less thing to stress about!
Building workplace satisfaction and a better office environment  
Happy, alert, and energized employees are vital to the success of your business, and keeping your office kitchen or break room fully-stocked with coffee, tea, soups, snacks, and other treats is an excellent way to boost your employees' morale and production. Your employees have access to a fully stocked kitchen or break room right in your office! And wouldn't it be helpful not to have to leave the office to find something healthy and good to eat? Convenience is always a high priority in a busy workplace.
By providing a wide range of high-quality coffee and tea, you can offer your workers a better break experience. Although this may seem as if it's only a minor job perk, it can be much more. The short breaks an employee takes throughout the work day are critically important when they have substantial business demands on them day-in and day-out. Short breaks throughout the day can help your workers feel relaxed, refreshed, revitalized, and ready to take on the next challenge, leading to a favorable impact on your company's bottom line. Furthermore, workers who feel their employer cares about them can be more apt to perform to the best of their abilities. Coffee consumption can enhance job performance as well, so your company stands to benefit considerably.
Reducing your time commitment and guesswork
Ordering supplies, timing shipments and settling on a variety of options that everyone will enjoy can be a time-consuming and stressful process. Thankfully, an office coffee delivery service takes the guesswork and time commitment out of the picture. We are experienced in navigating the ins and outs of excellent office coffee. We do the work, so you don't have to. Ready to see the difference Monumental Markets can make? Then, try our coffee service. Call us today, and we'll set your office up with a coffee and office pantry service in Tysons, VA that can start your day off right, We bet your employees will love it, and your whole office will thank you.
Free food has a powerful effect on office culture. Monumental Pantry Service keeps teams satisfied.
When you feed your teams, word gets around. Monumental Pantry Service can help tip the scales for prospective employees.
Our market is great! It's easy to use, always stocked, and open 24/7!
Mike Choutka - President, Hensel Phelps