Prepackaged food vending in DC, MD and VA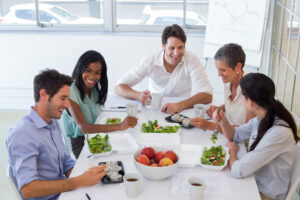 Incorporating prepacked food vending for your DC, MD and VA business or property is a great way to promote positive socialization and constructive collaboration. The presence of food and drink services in a company or shared environment can have a great impact on how people interact with each other. Monumental Markets understands the value of having a well-stocked room that all employees and visitors can enjoy at any time. We also serve clients such as property owners who want to have an area that their tenants can use. Whatever your needs or tastes are, we can customize your room to include the foods and refreshments that your team loves.  
Prepackaged Food Vending in DC, MD and VA
Adding premium food and drink options to your open office or community room will immediately spark the attention of your team, staff, or residents. Whether you are a business owner or property owner, you can rely on the excellent services that Monumental Markets is known for. Founded in 1991, we have helped many companies within the Washington, D.C., Maryland and Virginia region to set up impressive spaces that bring people together. Featuring a large inventory of a variety of snacks, drinks, fruit and more, our selection will pique the interest of anyone passing through your building. Our micro-markets and other services have had a significant impact on productivity and overall environment. Ask us about what services we can provide you with. 
Create a Social and Collaborative Environment
At work, it can be difficult for employees to get to know their fellow team members, especially if they are in different departments that may be at the other end of the building. Workplace communication is not always easy, but having an inviting community space that everyone has access to can break down barriers. As a result, you can promote better cross-collaboration among employees and encourage improved work habits. 
If you own an apartment complex, upgrading your shared community room is also a good way to attract and retain new talent or tenants. People can talk to each other in a relaxed and comfortable environment, allowing residents in the same apartment complex to become familiar with each other. 
Choose From Diverse Snack and Drink Options
We work with you to develop an inventory that features your team's favorite snack and beverage options. We will ensure that our vending machines and micro-market are always fully-stocked for your convenience. Some workplace cafeterias are often loaded with unhealthy choices that don't make the best fuel for a productive workday. If you want other alternatives besides chips and candy, we have health-conscious choices such as fruit, sugar-free, and gluten-free items. By using our services, you don't have to settle with a boring lunch or snack that's also not good for you. 
Trusted Food Services You Can Rely On
If you are seeking an innovative solution that has a host of benefits for your team or tenants, you can look to Monumental Markets. Explore our range of customized food service options by contacting us today.