Vending Machine VA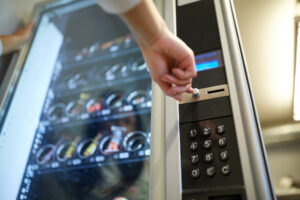 There are a wide variety of goods that are focused on, when it comes to vending machines around the world.  Moreover, the items found in vending machines are rarely black and white (such as only having candy, being a prime example).  As such, some parts of the world provide products in their vending machines that one may not expect in the U.S. An example of this, pertains to fruits and vegetables.  One of the strongest benefits of this, is that instead of needing to go to the store for fruits and vegetables, stopping by a vending machine to get some, can be a more convenient way. An example of this, would be a vending machine VA. 
Vending Machine VA
What is important to remember about different types of items when it comes to vending machines, is that marketing is a factor, which determines what is put in the vending machines.  For example, vending machines on a college campus would be marketed towards college students. As such, such vending machines may include snacks and pop.   However, vending machines focusing on fruits and vegetables, would focus on health and fitness, and this is what aids in creating marketability. However, there are other factors to focus on as well.  
The Power of Marketing 
As mentioned, marketing is important, because it helps to build relatability, in relation to the audience that is being targeted.  An example of this, would be how Monumental Markets has a strong focus on variety, such as open door markets, pantry service, and coffee service. Examples such as these are important for any market, because there needs to be a clear understanding that although marketing to a specific audience is needed, there also needs to be marketing in a multitude of ways, so that the audience being appealed to increases, to prevent stagnation, as to what is being advertised. 
Vending Services Available 
For offices and businesses trying to provide premier services to their customers, guests or staff, there are a diverse variety of VA vending machine services that cater to many different palettes and needs. Vending and market services have greatly evolved in recent years. More places can be found with thoughtfully designed mini markets that have a large inventory of amazing products. Vending services can be full of almost any kind of product now, from packaged snacks to fresh foods. Many even include contactless systems that make it easier than ever to grab a quick snack on the way to a destination. Some of the services that you can purchase from us are described below:
Micro markets. Our pantry services are exceptional because they can be designed to fit your specific building. By choosing Monumental Markets pantry services, you can get a market filled with machines and products that cater to your specific team or community's needs. You can receive assistance from helpful staff who will work with you to create a layout that is inviting and encourages connection and productivity. We offer a range of items filled with tasty and health-conscious options to suit any person's tastes.
Coffee services. Having fresh coffee can immediately boost a person's day. Any team can benefit from personalized coffee services that feature coffee made from high-quality beans from VA vending machine services. You will not have to worry about keeping your station in stock as we will make sure your inventory will always be replenished in time. If you are seeking a convenient coffee service for your office or building, request more information from our staff.
Fresh fruit delivery. Delicious fruit is one of the most important parts of a balanced and healthy diet, regardless of one's lifestyle or diet. When consumers have access to a variety of colorful, fresh fruit, they can get the energy to conquer their day. Our services include fresh fruit delivery that is an excellent and beneficial addition to any location.
Who Can Benefit From Vending Services 
Marketing to target audiences is critical. At Monumental Markets, our marketing campaigns are developed to appeal to many different consumers, from apartment residents to college students. Whether you are a worker, student or resident, you can benefit from having vending services just a few minutes away. It can take a long time to take a trip from an office to the local convenience store. Having vending services immediately available is suitable for anyone, whether you are seeking a midnight snack or need a quick boost of energy to improve your productivity.
Elevate Your Food Services 
Having quick access to quality foods and beverages is a necessity for any workplace, office, residence or campus. Whether it's targeted for tenants, team members, or visitors, any building can be elevated through appealing food services that are designed to meet specific's customers ' preferences and needs. If you want to learn more about products available within VA vending machine services offered by Monumental Markets, give us a call if you are interested in purchasing unique, efficient, and convenient services for your location.
5 Ways A Vending Machine Can Upgrade Your Workplace
Virginia vending machine services can keep you and your employees well-stocked on snacks. But there's more benefits to a stocked breakroom than just a few convenient bites to eat. Read on to see how a vending machine can help your team, and get in touch with Monumental Markets today.
Healthy Bodies, Healthy Minds.
Most people assume that a vending machine has to be full of sugary, high-calorie snacks or sweets. Fortunately, times are changing. It's common for vending machines to provide plenty of healthy snacking options, from air-popped popcorn, nuts, and even protein bars.
You don't need to stock a vending machine full of sodas and candybars. Healthy snacks mean a higher energy team, and a higher energy team can get more done. A vending machine in the right area can also serve as a valuable meeting space.
A Place For Ideas.
A vending machine is a great place for your employees to grab a quick snack, but they can also help your employees brainstorm. It's easy to lose your train of thought if you leave the workplace for a meal or for a snack, but if you stay on-site and grab a convenient bite to eat, you can keep your head in the game.
A vending machine can also function like the proverbial water cooler. Employees from different teams can bump into each other and talk shop, or just get to know each other better. Some ideas develop organically, so why not have a few snacks while you're bouncing around ideas?
Micro-Markets Can Do More.
"Micro-market" isn't just a convenient marketing term – they can really upgrade your employees' breakroom experience, and they're becoming more and more popular. But what's the difference between a micro-market and a standard vending machine?
Generally speaking, a micro-market provides much more variety than a standard vending machine. With a micro-market, you can stock ready-to-eat meals, rather than just snacks. You may also be able to pay with a prepaid account. If you're considering a Virginia vending machine, ask about micro-markets to see if they're right for your office.
Company Lunches Are Expensive And Time-Consuming.
We're not out to steal anyone's lunch – but we're certainly here to save you time. Company lunches can quickly become overindulgent time-sinks, and there's no telling when you and your team will actually place your orders and get your food, much less be back at the office.
We're fans of lunch: There's no reason you shouldn't have a fun lunch every now and then to boost morale and keep your team happy. But every day? It'll stack up, and it'll really derail any major projects you're trying to finish up on time.
Monumental Markets Has You Covered.
At Monumental Markets, we know snacking. We also know convenience. A vending machine or mini-market in the office can keep your team focused on getting the job done, while also providing a casual meeting space for your brightest minds to bounce around some new ideas.
If you're ready to get stated, get in touch with us today, and see how one of our Virginia vending machine specialists can boost your breakroom.
FAQs For Starting A Vending Machine Business
Starting a VA vending machine business can be a lucrative venture, but it's natural to have questions before diving in. Here are some of the most frequently asked questions and answers to help you kickstart your journey in the vending industry.
How do I choose the right location for my vending machines?
The success of your vending business hinges on location selection. Research high-traffic areas like offices, schools, gyms, or hospitals. Consider foot traffic, target audience, and existing competition before finalizing a location. Building good relationships with property managers and owners can also help secure prime spots.
What types of products should I stock in my vending machines?
The product selection largely depends on your target market. Consider popular snacks, beverages, and healthy options. Always keep customer preferences in mind and regularly rotate stock to keep things fresh. Don't forget to factor in dietary restrictions and allergies when choosing your inventory.
How much does it cost to start a vending machine business?
The initial investment varies, but on average, you can start with around $2,000 to $10,000 per machine. This includes machine purchase, stocking inventory, and initial location fees. Keep in mind that expenses like maintenance, insurance, and restocking will be ongoing. It's crucial to create a detailed business plan to estimate your specific startup costs accurately.
What permits and licenses are required to operate a vending machine business?
The legal requirements differ by location, so check with your local authorities. Generally, you may need a business license, vending permits, and health department approvals. You should also consider liability insurance to protect your business in case of accidents or product issues.
How can I maintain and service my vending machines effectively?
Regular maintenance is key to keeping your machines running smoothly. Clean and restock them consistently, and schedule routine maintenance for repairs and updates. Many vending machine suppliers offer maintenance services or can recommend local technicians. Investing in technology like cashless payment systems can also improve customer experience and streamline your operations.
Starting a vending machine business can be a rewarding endeavor, but like any business, it requires careful planning and attention to detail. Remember that success may not happen overnight, but with dedication and smart choices, your vending business can thrive.
Ready to take the plunge into the world of vending machines? Start by researching your market, securing the right locations, and developing a solid business plan. With the right strategies in place, your VA vending machine can become a reliable source of income.
If you're eager to get started or have more specific questions, feel free to reach out to our team of experts. Monumental Markets is here to support your journey in building a successful vending machine business. Contact us today to explore our vending machine options and get personalized guidance on your business venture. Your success awaits – let's embark on this exciting journey together!