Office Lunch Service, DC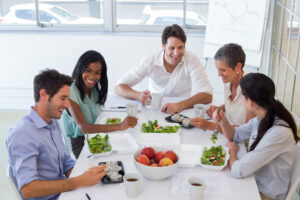 As your friendly team at Monumental Markets has seen many times before, business and their employees alike love what our office lunch services in DC offers! The temptation to remain at our desks and work through lunch is a common one. Perhaps there's a deadline looming on the horizon, a big meeting coming up, or a mountain of paperwork to get through. Whatever it is that your employees have to face during their shift, it can help to provide office lunch services on a regular basis. At first glance it may seem like serving free lunch won't actually increase productivity, but it in fact does. Not only that, but free mid-day meals boosts morale, energizes employees, and promotes job satisfaction.
Providing meals to workers is a very simple gesture that goes a long way and pays huge dividends. Surveys suggest that workers who regularly take the time to eat lunch are more engaged with their responsibilities compared to those who skip it. Workers get more done and have a more positive outlook on their company if they get to reap the rewards of a free lunch here and there. Let's admit it, food makes people happy, and more joyful employees means more productive ones!
Skipping Meals is Not Good For Health
Food is what the body needs as necessary fuel, so without it, we are bound to run out of energy eventually. When workers skip meals for one reason or another, their blood sugar levels cannot stay balanced, causing mental and physical sluggishness. Low blood sugar can cause brain fog that dulls concentration and focus, increase the production of cortisol (stress hormone), and heighten stress-induced irritability. 
Free Healthy Meals Increases Productivity
Supplying free, healthy meals is a great wellness and worklife benefit. Instead of skipping meals or snacking, employees have yummy and delicious food that suits their dietary preferences too. When workers eat well and feel appreciated by their company, they're going to work harder and with more focus. Reach out Monumental Markets today to get your team set up with our Washington, DC office lunch services!
Don't Underestimate the Value of Morale
As a business, you want employees to feel they are a valued member of the team. At the same time, you want your company to thrive and prosper. These two goals don't have to be separate, as providing office lunch services satisfies both. There is a link between a successful business and factors such as employee retention, customer satisfaction, sales, profitability, and engaged employees. 
What are Office Lunch Services?
Office lunch service DC is the new way to get your team lunch and office catering. They offer a simple, easy-to-use platform that gives you access to lots of different caterers, with different cuisines and price ranges, without the back-and-forth emails and phone calls of traditional office catering.
With office lunch service in DC, you can order lunch delivery for a few people or thousands of employees. All orders can be placed directly on their website or mobile app, and each order is automatically sent to the caterer. There's no need to call ahead or place a special request.
If you're looking for healthy food delivery options, many caterers in office lunch service in DC offer fit meals including low-carb options and vegetarian choices. They also have flexible payment options including prepaid accounts, per-order payment with a credit card, or cash (for select caterers).
Why Office Lunch Services Are Good For The Workplace
Office lunch service in DC delivers meals directly to your workplace, either via a weekly subscription or on-demand. By offering fresh meals that can be delivered directly to your employees, you can increase productivity and decrease the time they spend away from their desks trying to find lunch options (that are usually less healthy than their own kitchen).
The service is convenient for employees since it eliminates the need to order lunch. The food delivered is typically more affordable than ordering from a restaurant as well.
For employers and employees alike, office lunch services in DC like Monumental Markets is a great way to boost morale in the workplace.
Employees can enjoy a gourmet meal for a reasonable price without having to leave the office. This relieves workers of the burden of having to pack or buy lunch and allows them more time to focus on their work.
For employers, this is an easy way to show appreciation for their employees without breaking the bank. Instead of spending money on prizes for contests or giving away elaborate gifts, providing meals is something that everyone will enjoy.
In addition to the obvious benefit of not having to leave the office during lunch, office lunch service in DC can also help with team building and employee growth.
Scheduled lunches bring people together. When you make group lunches a regular (preferably weekly) occurrence, it gives your employees the opportunity to connect with co-workers they might not interact with otherwise. By providing lunch, you make it easier for people to take a break from their workday, step away from their desks and enjoy each other's company. Of course, being fed definitely doesn't hurt!
Variety keeps things interesting. If there's one thing that will kill any good thing — even eating — it's repetition. A weekly lunch office lunch service in DC can keep things fresh by bringing in new flavors and options for people to try each week.
How Monumental Markets Can Help
Monumental Markets offer our clients the convenience of an office lunch service in DC and vending machine service. Our team will load the vending machine with your choice of fresh snacks, tasty lunch alternatives, and more. Visit Monumental Open Door Market the next time you're looking for a convenient snack meeting break or lunch!
Contact Monumental Markets
At our food and coffee delivery service company, we have been invigorating break room experience for employees ever since 1991. To learn more about our DC office lunch service deals and products, call Monumental Markets today!