Office Lunch Service, DC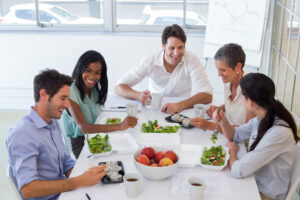 As your friendly team at Monumental Markets has seen many times before, business and their employees alike love what our office lunch services in DC offers! The temptation to remain at our desks and work through lunch is a common one. Perhaps there's a deadline looming on the horizon, a big meeting coming up, or a mountain of paperwork to get through. Whatever it is that your employees have to face during their shift, it can help to provide office lunch services on a regular basis. At first glance it may seem like serving free lunch won't actually increase productivity, but it in fact does. Not only that, but free mid-day meals boosts morale, energizes employees, and promotes job satisfaction.
Providing meals to workers is a very simple gesture that goes a long way and pays huge dividends. Surveys suggest that workers who regularly take the time to eat lunch are more engaged with their responsibilities compared to those who skip it. Workers get more done and have a more positive outlook on their company if they get to reap the rewards of a free lunch here and there. Let's admit it, food makes people happy, and more joyful employees means more productive ones!
Skipping Meals is Not Good For Health
Food is what the body needs as necessary fuel, so without it, we are bound to run out of energy eventually. When workers skip meals for one reason or another, their blood sugar levels cannot stay balanced, causing mental and physical sluggishness. Low blood sugar can cause brain fog that dulls concentration and focus, increase the production of cortisol (stress hormone), and heighten stress-induced irritability. 
Free Healthy Meals Increases Productivity
Supplying free, healthy meals is a great wellness and worklife benefit. Instead of skipping meals or snacking, employees have yummy and delicious food that suits their dietary preferences too. When workers eat well and feel appreciated by their company, they're going to work harder and with more focus. Reach out Monumental Markets today to get your team set up with our Washington, DC office lunch services!
Don't Underestimate the Value of Morale
As a business, you want employees to feel they are a valued member of the team. At the same time, you want your company to thrive and prosper. These two goals don't have to be separate, as providing office lunch services satisfies both. There is a link between a successful business and factors such as employee retention, customer satisfaction, sales, profitability, and engaged employees. 
Contact Monumental Markets
At our food and coffee delivery service company, we have been invigorating break room experience for employees ever since 1991. To learn more about our DC office lunch service deals and products, call Monumental Markets today!