Want to offer the best perks in town? Feed your team like they work in Silicon Valley? Monumental Pantry Service will stock your break room with all the yum your team could ever want.
Unlike our Open Door Markets, Monumental Pantry Service provides a fully stocked kitchen or break room at no cost to your team. Just pick your pantry items, and we'll make sure you've got everything you need to thrive.
contact us
Tell us what you want to spend, and we'll create an awesome spread that makes everyone smile.
Whether you want to focus on health or accommodate the gluten- or sugar-free, we offer what you need.
Office Coffee Service Rosslyn VA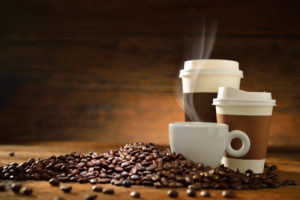 Monument Markets provides environmentally-friendly office coffee service in Rosslyn, Virginia. We are committed to being a green-oriented company in practice, not just in theory. We are also seeing a rising interest among consumers who also recognize the importance of choosing sustainable coffee solutions. As a premiere office coffee service in Rosslyn, VA, Monument Markets provides quality products that are also environmentally-friendly.
Biodegradable Compared to Compostable
There is some confusion about the differences between compostable materials as compared to biodegradable ones.
Biodegradable materials fully disintegrate at a slow rate, and can take years to complete. In the process, biodegradable materials sometimes pollute metal into the soil.
Compostable materials also fully disintegrate, but at a much faster rate. In the process, compostable materials can leave valuable nutrients into the soil. Monument Markets is an office coffee service in Rosslyn, VA that provides environmentally-friendly compostable materials.
Coffee Certifications
Monument Markets is an office coffee service in Rosslyn, VA that focuses on providing customers with sustainable, environmentally-friendly, and organic coffee choices. Depending on current availability, your choices may include all or some of the following:
USDA Organic. Coffee beans certified as USDA organic must be grown without the use of pesticides, fertilizers, steroids or hormone treatments. Another benefit is that there are no harmful chemicals that will drain into the soil or water supply.
Fair Trade. Coffee beans purchased from Fair Trade farmer members encourages them to use sustainable farming methods. Fair Trade also supports community schools and daycare programs.
Rainforest Alliance Certified. This organization focuses on protecting fragile and invaluable rainforest ecosystems upon which wildlife and humans depend and which has a global impact.
Product Certifications
Not every office coffee service in Rosslyn, VA is fully committed to truly environmentally-friendly practices. However, Monument Markets offers sustainable, organic, and "green" coffee products and supplies that are also environmentally-friendly. This includes:
Bisphenol A (BPA)-Free. BPA is a chemical that is commonly used in plastic products and sealants. It is even found in receipt and newsprint inks. BPA has shown to be toxic and may be carcinogenic. Monument Markets uses BPA-free products as much as possible. As more BPA-free options arrive in the marketplace, this becomes increasingly practical.
The Forest Stewardship Council (FSC)-Certified. The FSC is dedicated to preserving and protecting Earth's forests in a sustainable way so that they will remain healthy indefinitely. The FSC "Chain of Custody Certification" monitors wood-based products from the forest through the harvest, the manufacturing process, and delivery to the consumer. This makes it possible to identify wood products that are developed using sustainable practices that are eco-friendly.
Hardwood tree-free. Current and evolving technologies have made it possible to develop materials that are not sourced from hardwood trees but are sustainable, natural, and organic. Examples are bamboo, sugarcane bagasse, and the eucalyptus tree which is an invasive softwood species in the United States.
If you would like to know more about our environmentally practices, give us a call to learn why we are the first choice for many companies in Rosslyn, VA who recognize the need for an office coffee service.
Free food has a powerful effect on office culture. Monumental Pantry Service keeps teams satisfied.
When you feed your teams, word gets around. Monumental Pantry Service can help tip the scales for prospective employees.
Our market is great! It's easy to use, always stocked, and open 24/7!
Mike Choutka - President, Hensel Phelps