Want to offer the best perks in town? Feed your team like they work in Silicon Valley? Monumental Pantry Service will stock your break room with all the yum your team could ever want.
Unlike our Open Door Markets, Monumental Pantry Service provides a fully stocked kitchen or break room at no cost to your team. Just pick your pantry items, and we'll make sure you've got everything you need to thrive.
contact us
Tell us what you want to spend, and we'll create an awesome spread that makes everyone smile.
Whether you want to focus on health or accommodate the gluten- or sugar-free, we offer what you need.
Micro Market Vending Towson MD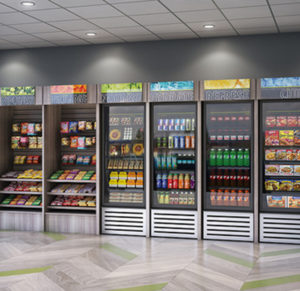 When you want only the best for your employees, come to the micro market vending Towson, MD chooses first! More and more employers are searching for healthy vending services and food options for the workplace. Employees are tired of fast food breaks or huddling together to share the sole microwave oven. Monumental Markets provides the healthy snack market Towson, MD trusts and loves. Snacks and meals include Kind bars, Kashi cereal and snacks, hummus, yogurt, juices, salads, and more. Gone are the days of vending machines that sell a lot of empty calories. Health-conscious employees want better alternatives, and we provide the express market Towson, MD employers love.
Employees work long hours, weekends, and even overnights. They may choose to stay at work rather than going out for meals, or prefer to sit together and collaborate over a meal in the office. Our micro market kiosks in Towson, MD do not take up much room- so they allow plenty of space for dining tables and chairs. And we work hard to keep selections fresh and well-stocked. We understand that workers perform best when they are fueled with top-quality meals and snacks.
Contact Us For Micro Market Vending – Towson MD
Employers are always looking for inexpensive ways to improve employee morale. We offer self-service vending Towson, MD trusts! We provide nourishing, enriching options that will keep employees motivated and full of energy. Monumental Markets provides top name brands and the most desirable snacks and meals. Of course, we do have sweet treats and other options available should employees need a tasty boost or a quick pick-me-up. We even provide foods for those with special dietary guidelines. Our micro markets truly have something for everyone, and it is simple to set one up in your office. Micro markets do not require a great deal of space and do not require an employee to man them. We use state of the art technology that is both functional and easy to understand. Contact the micro market vending Towson, MD loves and trusts today!
Free food has a powerful effect on office culture. Monumental Pantry Service keeps teams satisfied.
When you feed your teams, word gets around. Monumental Pantry Service can help tip the scales for prospective employees.
Our market is great! It's easy to use, always stocked, and open 24/7!
Mike Choutka - President, Hensel Phelps