Want to offer the best perks in town? Feed your team like they work in Silicon Valley? Monumental Pantry Service will stock your break room with all the yum your team could ever want.
Unlike our Open Door Markets, Monumental Pantry Service provides a fully stocked kitchen or break room at no cost to your team. Just pick your pantry items, and we'll make sure you've got everything you need to thrive.
contact us
Tell us what you want to spend, and we'll create an awesome spread that makes everyone smile.
Whether you want to focus on health or accommodate the gluten- or sugar-free, we offer what you need.
Micro Market Vending Hunt Valley MD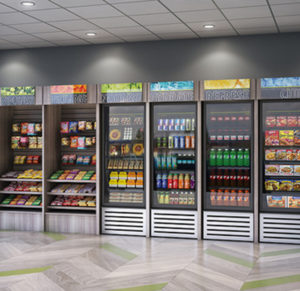 If you are searching for a healthy alternative to fast food, candy, and soda, contact the micro markets Hunt Valley MD trusts. Imagine vending machines or a micro market stocked with fresh, quality foods like hummus, yogurt, and juices. Monumental Markets provides the best self-service vending Hunt Valley, MD has to offer. Their nutritious snacks and light meals will invigorate and refresh workers. Energy levels will rise after these healthy foods are consumed.
Employees are more on the go than ever before. Between work and family obligations, the average employee has little time to prepare meals for work or go out for a healthy snack or lunch. Fortunately, employers now have access to the healthy snack market Hunt Valley MD trusts to provide high quality meals and snacks. Monumental Markets are the new trend in vending and snack services. Forget about candy bars and soft drinks! With Monumental Markets' express market in Hunt Valley, MD, staff members can break and catch a healthy snack or meal without leaving the office. These healthy alternatives improve employee morale and increase productivity. Through their easily accessible micro market kiosk in Hunt Valley, MD, Monumental Markets can meet the needs of hundreds or even thousands of employees.
Contact Us For Micro Market Vending – Hunt Valley MD
Healthy food options that employees trust encourage them to stay at the office rather than going out for meals. This leads to an increase in collaboration and friendships between employees. Monumental Markets' micro market vending in Hunt Valley, MD and beyond meets the needs of both large and small businesses alike. They regularly stock fresh foods including salad, sandwiches, yogurt, fruit and vegetables, milk, and nutrition bars. There are delicious alternatives for everyone, regardless of their nutritional needs. If you are interested in providing fresh, healthy alternatives for your employees, contact the micro markets Hunt Valley, MD trusts today.
Free food has a powerful effect on office culture. Monumental Pantry Service keeps teams satisfied.
When you feed your teams, word gets around. Monumental Pantry Service can help tip the scales for prospective employees.
Our market is great! It's easy to use, always stocked, and open 24/7!
Mike Choutka - President, Hensel Phelps