Want to offer the best perks in town? Feed your team like they work in Silicon Valley? Monumental Pantry Service will stock your break room with all the yum your team could ever want.
Unlike our Open Door Markets, Monumental Pantry Service provides a fully stocked kitchen or break room at no cost to your team. Just pick your pantry items, and we'll make sure you've got everything you need to thrive.
contact us
Tell us what you want to spend, and we'll create an awesome spread that makes everyone smile.
Whether you want to focus on health or accommodate the gluten- or sugar-free, we offer what you need.
Micro Market Vending Baltimore MD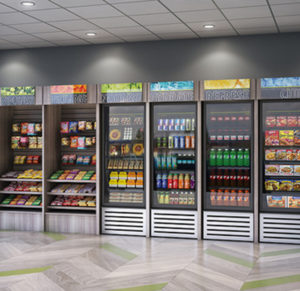 Monumental Markets provides the best micro market vending Baltimore MD has to offer. The healthy snack market Baltimore MD receives through Monumental Markets serves to refresh and fuel employees in a healthy, positive manner. Traditional snack foods like chips and candy are replaced by delicious, healthier alternatives. In fact, at the micro market kiosk, Baltimore MD employees can choose from a large variety of healthy foods and drinks. Not only can employees save time by not eating out, but many report greater feelings of satisfaction while at work along with extra energy for those late nights and weekends.
Many offices operate around the clock. This leaves few alternatives for employees that must work overnight hours. Fast food choices are traditionally unhealthy and, over time, can lead to unpleasant weight gain and physical side effects associated with a fatty diet. At our express market, Baltimore MD employees can choose from healthy selections like fresh fruits, salads, sandwiches, and other nutritional choices around the clock. And rest assured, we carry some traditional snack foods, too, for those times when you need a quick burst of energy. Through our micro market, Baltimore MD workers can experience refreshing meals, snacks, and treats. Our self service vending leaves Baltimore MD consumers satisfied and returning for more.
Contact Us For Micro Market Vending in Baltimore MD
At Monumental Markets, we recognize that productivity is the name of the game for employers. Studies have shown that employees that consume a healthy diet are more productive than those who eat more processed, artificial foods. In addition, employees report greater levels of satisfaction when they are offered food options that appeal to them. Offices and workplaces are bustling communities, so it makes sense to provide a convenient location where members can eat a snack or meal, collaborate, and enjoy the companionship of their coworkers without leaving the building. Monumental Markets truly provide the most superior micro market vending Baltimore MD has to offer.
Free food has a powerful effect on office culture. Monumental Pantry Service keeps teams satisfied.
When you feed your teams, word gets around. Monumental Pantry Service can help tip the scales for prospective employees.
Our market is great! It's easy to use, always stocked, and open 24/7!
Mike Choutka - President, Hensel Phelps