Want to offer the best perks in town? Feed your team like they work in Silicon Valley? Monumental Pantry Service will stock your break room with all the yum your team could ever want.
Unlike our Open Door Markets, Monumental Pantry Service provides a fully stocked kitchen or break room at no cost to your team. Just pick your pantry items, and we'll make sure you've got everything you need to thrive.
contact us
Tell us what you want to spend, and we'll create an awesome spread that makes everyone smile.
Whether you want to focus on health or accommodate the gluten- or sugar-free, we offer what you need.
Fresh Healthy Vending Washington DC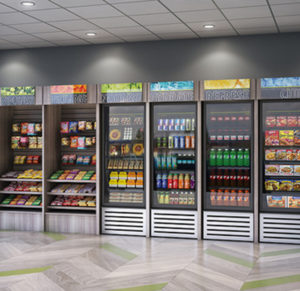 Tips for Healthy Snacking
When you're craving something to eat in advance of your next meal, Monumental Markets can provide a heart healthy snack Baltimore residents love. Our micromarkets have steadily gained in popularity because more than ever, people realize the value of healthy snacking.
It's easier than ever to find a heart healthy snack in Baltimore, because Monumental Markets makes it convenient. We install automated micromarkets onsite for companies all around the Baltimore area. Monumental Markets can customize the healthy snack choices to suit your company. When it comes to healthy snacks, we offer the following suggestions when cravings begin.
Make conscious eating choices. Eating the wrong foods can prevent the feeling of being full, which can lead to overeating.

Simple carbohydrates such as pasta and white bread lack protein. This can lead to additional hunger. A heart healthy snack Baltimore employees enjoy that satisfies their cravings are protein-rich foods such as Greek yogurt or cottage cheese.
A popular Baltimore heart healthy snack is a fresh, leafy green salad. Another popular choice is fiber-filled hummus and whole wheat crackers.
Fresh vegetables and apples dipped in hummus are not only delicious, but are also healthy and provide a good supply of energy.
Mixed nuts can give the body heart healthy fiber.

Focus on what you're eating. Mindless snacking can easily lead to overeating. By paying attention to how many calories each snack contains, healthier eating choices can become second nature. When focusing on the act of eating, it's easier to notice when the stomach is full and stop eating.

Overeating can lead to obesity, which might result in heart disease and other serious medical issues.
Eating food in a relaxed, focused state can reduce the risk of experiencing digestion issues.

Include citrus in your snacking plan. Grapefruit can help lower insulin levels, which can in turn help some people lose weight simply because they eat less as a result. For a seasonal heart healthy snack Baltimore locals turn to, Monumental Markets provides market fresh and healthy foods.
Snack often. Blood sugar levels can drop during long stretches between meals. This can cause the body to crave more food than simple snacks. By not eating enough, the body may actually think it needs more food than it really does, which can lead to overeating.
Avoid the risk of heart disease. More Americans die from heart disease every year than from cancer. By choosing a heart healthy snack, Baltimore residents can maintain a diet that reduces the risk of disease. Even those who do not have high cholesterol levels or high blood pressure can benefit from healthy snacking.

Choose healthy fats such as raw nuts, avocados, or flax seeds.
Fresh vegetables and fruits prepared without butter are excellent sources of nutrients.
Fish and poultry are high in Omega 3 and protein.
For calcium and protein, choose foods made with fresh eggs, cheese, or unsweetened yogurt.
To find out how Monumental Markets can provide your employees with daily choices for a heart healthy snack Baltimore office workers appreciate, call us today at Monumental Markets.
Free food has a powerful effect on office culture. Monumental Pantry Service keeps teams satisfied.
When you feed your teams, word gets around. Monumental Pantry Service can help tip the scales for prospective employees.
Our market is great! It's easy to use, always stocked, and open 24/7!
Mike Choutka - President, Hensel Phelps