Want to offer the best perks in town? Feed your team like they work in Silicon Valley? Monumental Pantry Service will stock your break room with all the yum your team could ever want.
Unlike our Open Door Markets, Monumental Pantry Service provides a fully stocked kitchen or break room at no cost to your team. Just pick your pantry items, and we'll make sure you've got everything you need to thrive.
contact us
Tell us what you want to spend, and we'll create an awesome spread that makes everyone smile.
Whether you want to focus on health or accommodate the gluten- or sugar-free, we offer what you need.
Healthy Vending Machines Washington DC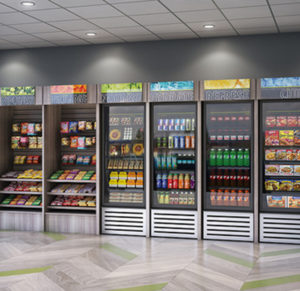 4 Reasons to Choose Micro Markets and Fresh Foods
If you're looking for an alternative source for healthy vending machines Washington DC can provide, you might be wondering if there really is a demand for fresh foods. Although packaged "junk foods" might seem more cost-efficient at first — and although these products might seem highly in-demand — there's a growing market for alternatives to healthy vending machines Washington DC trusts.
At Monumental Markets, we know that there are many providers of healthy vending machines Washington DC residents have relied on in the past. However, we also know that there is a new demand for fresh foods made with sustainably-sourced ingredients. We are proud to offer local schools, businesses, and government organizations with alternative options to healthy vending machines in Washington DC. After years of seeing the demand for fresh foods and drinks grow locally, we made it our mission to provide alternative options that are easy to access and afford.
If you've been on the fence when deciding whether or not to offer alternatives to Washington DC healthy vending machines, here are a few reasons why alternative vending options could be a smart choice:
Americans are paying more attention to nutrition information. This might sound surprising at first, but it's true! Researchers have found that the majority of American adults pay attention to the nutrition labels found on food packaging. By providing food options that clearly list ingredients and nutritional information, your organization is providing consumers with the information they already want.
Healthy meals and snacks can encourage overall wellness. When you have healthy and delicious food options available, you might naturally find yourself paying more attention to the overall physical and mental well being of your body. Installing a micro market in your school or workplace is a great stepping stone for any organization that is trying to encourage students and employees to become healthier.
Healthy eating habits start at a young age. Young students who develop healthy eating habits when they're young are more likely to succeed in school and in extracurricular activities. They're also more likely to carry their healthy eating habits well into adulthood — fostering a lifelong focus on living well.
Alternative healthy micro markets are affordable and convenient. In fact, you might just find that these fresh food markets are even more convenient than traditional vending machines! At Monumental Markets, we make it easy for local organizations to benefit from healthy and delicious fresh foods.
Monumental Markets: Alternative Choices to Healthy Vending Machines Washington DC Residents Trust
Installing alternative micro markets in your school or workplace could be the single-most important thing you've done for your students and/or employees. When people have more food and drink options — and when those options are healthy and fresh — it's easier to eat well and do your best work.
At Monumental Markets, we're proud to offer local organizations with the items they need to open their own micro markets. As long as there's demand for delicious and fresh food choices, we'll be a premier local provider of delicious snacks, meals, and beverages for schools and businesses. If you would like to learn more about installing a micro market in your organization — and providing delicious alternatives to healthy vending machines Washington DC organizations can rely on — contact Monumental Markets today.
Free food has a powerful effect on office culture. Monumental Pantry Service keeps teams satisfied.
When you feed your teams, word gets around. Monumental Pantry Service can help tip the scales for prospective employees.
Our market is great! It's easy to use, always stocked, and open 24/7!
Mike Choutka - President, Hensel Phelps