Want to offer the best perks in town? Feed your team like they work in Silicon Valley? Monumental Pantry Service will stock your break room with all the yum your team could ever want.
Unlike our Open Door Markets, Monumental Pantry Service provides a fully stocked kitchen or break room at no cost to your team. Just pick your pantry items, and we'll make sure you've got everything you need to thrive.
contact us
Tell us what you want to spend, and we'll create an awesome spread that makes everyone smile.
Whether you want to focus on health or accommodate the gluten- or sugar-free, we offer what you need.
Healthy Vending Machine White Marsh MD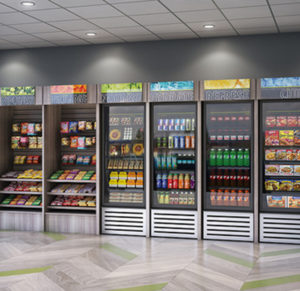 A Healthy Alternative to Vending Machines White Marsh MD Companies Choose
Monumental Markets can provide you with an alternative to healthy vending machines White Marsh MD companies often choose for their employees. Since 1991, we have been a top choice for businesses that want an affordable and convenient option when it comes to making healthy foods and snacks available for their staff. Through our installation of a fresh food micro market, we can customize a selection of healthy alternatives to vending machines according to your employees' preferences.
The Benefits of Healthy Eating
Research studies in recent years have consistently made a correlation between healthy eating and increased worker productivity. When an employee is eating well and exercising, the studies suggest, they are more likely to be productive and have fewer days of absenteeism. For many employees, a trip to the office cafeteria for a snack during the work day is routine. Traditionally, they may have purchased foods high in cholesterol and low in nutrition; which could degrade their health and overall productivity overtime. While the new healthy vending machines White Marsh MD employees are starting to see in their break rooms offer less of the common "junk food" options, they still fail to provide fresh, employee-preferred produce found in our micro markets.
Micro Markets: The Alternative to Healthy Vending Machines White Marsh MD Employees Want
Placed in a convenient location within your office building, our micro markets are stocked full of actually appetizing, healthy snack options which are available to your employees 24/7.
Advantages of Having Your Own Micro Market:
Purchases can be made automatically by using a self-service kiosk. There is no need to hire someone to run a register in the micro market.
When working long or inconsistent hours, it can be challenging for employees to plan healthy meals in advance of their workday. By having foods that are good for employees that they enjoy, productivity can remain more consistent at higher levels.
Many people subscribe to the belief that a happy and satisfied employee makes for a happy and satisfied customer. Our dietary habits do play a part in the way we feel, which can affect how we interact with coworkers and customers. An alternative to healthy vending machines White Marsh MD workers turn to as a source for snacks can help improve the way they feel — which can reflect positively in the way they feel about their work.
Contact us for an Alternative to Healthy Vending Machine White Marsh MD Residents Use
Monumental Markets takes pride in providing micro markets as an alternative to healthy vending machines White Marsh MD community members consider part of a healthy lifestyle. Eating healthy and staying happy — that is what we are all about. If you are in search of an alternative to healthy vending machines White Marsh MD companies choose for their employees, call us today at Monumental Markets.
Free food has a powerful effect on office culture. Monumental Pantry Service keeps teams satisfied.
When you feed your teams, word gets around. Monumental Pantry Service can help tip the scales for prospective employees.
Our market is great! It's easy to use, always stocked, and open 24/7!
Mike Choutka - President, Hensel Phelps