Want to offer the best perks in town? Feed your team like they work in Silicon Valley? Monumental Pantry Service will stock your break room with all the yum your team could ever want.
Unlike our Open Door Markets, Monumental Pantry Service provides a fully stocked kitchen or break room at no cost to your team. Just pick your pantry items, and we'll make sure you've got everything you need to thrive.
contact us
Tell us what you want to spend, and we'll create an awesome spread that makes everyone smile.
Whether you want to focus on health or accommodate the gluten- or sugar-free, we offer what you need.
Healthy Vending Companies Baltimore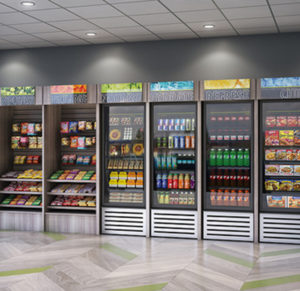 If your business is looking for unique dining options from various healthy vending companies Baltimore can provide, Monumental Markets should be your top choice for healthy eating. Many businesses, schools, and private organizations have already discovered that employees and students are more productive, healthier, and happier when they can choose from a variety of fresh foods. Unlike traditional vending machine companies, healthy vending companies Baltimore trusts — like Monumental Markets — provide alternative options through a new type of "vending" station: the micromarket.
Fresh, Express, High Tech Vending in Baltimore
There are many reasons why companies are choosing to move away from traditional vending machines and instead install a micromarket with assistance from one of the many healthy vending companies in Baltimore. Here are just a few of the top benefits that a customized micromarket could provide to you:
Energy efficiency: The innovative equipment used by Monumental Markets is certified by Energy Star. Not only is this equipment stocked with fresh greens, but it also saves you some "green" — money, that is! A micromarket by Monumental Markets uses approximately half the energy needed to power a traditional vending machine.
Easy payment system: Our alternative vending markets allow companies to use a custom payment system if they wish, which is something that not all Baltimore healthy vending companies can provide.  Employees can deposit a specific amount of money into their personal account and pay with a Monumental Market card at the payment kiosk. Each employee has the ability to monitor their balance online and deposit additional money electronically. Businesses can hand out these cards to employees as extra perks, or even give visitors their own cards for a complimentary meal on-site. Most major credit and debit cards are accepted at payment kiosks as well.
Anti-theft reassurance: Even though our open door micromarkets and self-service kiosks operate on an honesty policy, our cutting-edge security systems ensure that no one walks away without paying. Our camera and monitoring systems provide subtle but effective security for businesses.
Fast and simple snacks for busy employees: Having a variety of food choices right inside your building gives employees a simple way of recharging during busy days. Whether they forgot to pack a lunch or they're looking for a mid-afternoon snack, they never have to travel far to find a delicious variety of foods. Some offices might still see employees chatting around the water cooler, but at Monumental Markets, we bet your staff would much rather chat next to the salad bar or fruit baskets.
Fresh foods: You never have to worry about the products in your micromarket getting old before they're sold. As one of the top healthy vending companies Baltimore can provide, Monumental Markets uses innovative monitoring systems to provide your employees with more of the fresh, healthy foods they want.
Monumental Markets: One of the Top Healthy Vending Companies Baltimore Businesses Can Depend On
For more information about installing your own micromarket at your business or school, contact us today at (301) 595-4909. We will be happy to sit down with you to plan out the perfect open door market for your employees.
At Monumental Markets, we're proud to be one of the most reliable healthy vending companies Baltimore businesses trust.
Free food has a powerful effect on office culture. Monumental Pantry Service keeps teams satisfied.
When you feed your teams, word gets around. Monumental Pantry Service can help tip the scales for prospective employees.
Our market is great! It's easy to use, always stocked, and open 24/7!
Mike Choutka - President, Hensel Phelps