Want to offer the best perks in town? Feed your team like they work in Silicon Valley? Monumental Pantry Service will stock your break room with all the yum your team could ever want.
Unlike our Open Door Markets, Monumental Pantry Service provides a fully stocked kitchen or break room at no cost to your team. Just pick your pantry items, and we'll make sure you've got everything you need to thrive.
contact us
Tell us what you want to spend, and we'll create an awesome spread that makes everyone smile.
Whether you want to focus on health or accommodate the gluten- or sugar-free, we offer what you need.
Healthy Office Snack Provider Washington DC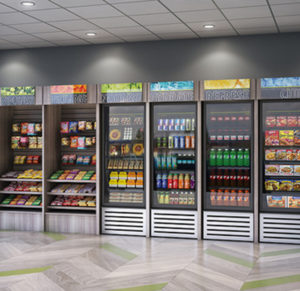 Benefits of Having a Healthy Office Pantry
Habits can be hard to break, but as a healthy office snack provider in Washington DC, Monumental Markets can help your staff or employees develop good habits. Good habits are essential when it comes to eating, as a poor diet can have disastrous effects on overall health. Monumental Markets provides our customers the ideal solution by delivering an assortment of healthy snacks to their office for the enjoyment of their employees. Contact us to find out more about how a healthy office snack provider in Washington DC might be right for your company.
Good Nutrition and Overall Health
The human body requires a minimum amount of certain vitamins and minerals which are found in various types of foods. Conversely, the body can process only a certain amount of sugars, carbohydrates, and other substances. When the body receives too little, or too much of the above, it can have great difficulty functioning. As a result, the individual may find themselves drained of energy and unable to think clearly or able to meet the physical demands of their job. Monumental Markets is a healthy office snack provider that specializes in providing our customers in Washington DC a variety of tasty and nutritious choices. When a person consistently fulfills their daily nutritional needs, their body can run more efficiently and for longer periods of time. Morale can also be significantly affected in a positive or negative way depending on how well or badly a person is eating. Monumental Markets provides the solution to these scenarios in Washington DC as a healthy office snack provider that companies of all sizes rely on.
Avoiding Empty Calories, Fatty Foods, and High Cholesterol Choices
Many of the most popular snack foods on the market today fall under the category of "junk food" as they offer little to no nutritional value. In fact, they are often high in bad cholesterol, high in sugar, high in fat, or all of the above and then some. As a healthy office snack provider, Monumental Markets recognizes the importance of avoiding these ingredients. We offer a wide range of healthy and nutritious snacks, and we also provide fresh fruits and vegetables when in season. Talk to us about preferences or food allergy concerns on behalf of your employees, and we will be happy to accommodate you based on product availability.
What About a Cup of Coffee to Enjoy With Your Healthy Snacks?
Even people who appreciate a healthy office snack provider in Washington, DC, will likely appreciate a good cup of coffee to enjoy on the side. At Monumental Markets we provide both. 
As a coffee and healthy office snack provider in Washington, DC, we seek to deliver the perfect cup of coffee and other brewed beverages, as well as, healthy snacks. We know that your employees want great taste and plentiful options. We also know that you want the ease and convenience of letting a coffee and healthy office snack provider in Washington, DC, to handle all the details, right? If so, give Monumental Markets a call. 
Why Coffee Delivery?
Office Coffee Service and Productivity
Starting the work day with a fresh cup of coffee is an excellent way to kickstart productivity. Many coffee and other brewed beverage drinkers report going through several cups of coffee or their favorite beverage in a single day or even a single morning. Your office environment should be getting coffee delivered for numerous beneficial reasons. As a business manager or owner, you can benefit from focused and productive employees and the convenience of having everything handled by a healthy office snack provider in Washington, DC, who also delivers great coffee. 
Workers who grab a cup of coffee and get to know a coworker who is doing the same may lead to improved office relationships and promotes more socialization, cooperation, and collaboration. Plus, having coffee readily available in the office space has actually been shown to improve overall productivity levels of a business. Plus, by supplying great coffee to your workers, you're eliminating the need for them to leave the office in order to refill on caffeine. Furthermore, the caffeine in coffee and other brewed beverages stimulates the brain, improves alertness, increases focus, and much more, creating obvious benefits for both you and your employees.
Show your employees that you care
Coffee consumption has been shown to contribute to a more relaxed office environment. And, coffee is more than just caffeine—it's chock-full of powerful antioxidants and other essential nutrients that benefit both the body and the mind. The antioxidants in coffee have been shown to help reduce the risk of certain diseases, such as Alzheimer's disease, Parkinson's disease, type 2 diabetes, dementia, cirrhosis of the liver, and even certain types of cancer.
Combine these nutrients with healthy snacks, and you can feel confident in knowing your employees are getting all the brainpower they might need during the day. Want to know more? Call a healthy office snack provider in Washington, DC, like Monumental Markets. 
Not only does a coffee delivery service make it so that your employees have a readily accessible source for hot, fresh caffeinated beverages, but it can be a substantial morale booster as well. Your workers will know that you are making an effort to contribute to their job satisfaction. Many employees feel that the inclusion of hot beverages in the workplace is a sign that their employer really values them. And almost all employees think that having quality coffee in the workplace makes substantial strides toward increasing productivity and boosting overall well-being.
Don't wait any longer to have fresh coffee  and healthy snacks delivered to your workplace. If you're interested in exploring a new service or market for your space, contact us. We can stock your team's favorite beverages and delicious healthy snacks right away. We will also ensure you have the supplies and accessories they need for that perfect cup. To learn more about Monumental Markets, a coffee delivery service and healthy office snack provider in Washington, DC, give us a call now. 
The Advantages of Choosing a Healthy Office Snack Provider in Washington DC
Monumental Markets is a healthy office snack provider in Washington DC that offers customers quality products with an emphasis on customer service. Since the time we started our company, our customer base has grown steadily due to the increasing demand for nutritious and delicious snacks. Here are some of the reasons why companies in Washington DC choose a healthy office snack provider to supply their staff with reasonably priced fresh product:
Convenience to companies and their employees who can avoid leaving the building to obtain healthy snacks.

Cost effective choices. Those who choose to take advantage of a healthy office snack provider who delivers to their office in Washington DC can avoid fighting traffic and paying for parking just to get a snack.

A quick snack doesn't have to consist of junk food. Eating healthy can be easy when a healthy office snack provider has already done the shopping on your behalf and selected fresh and quality snacks and brought them to your office.
To find out more about how a healthy office snack provider in Washington DC may benefit your company, give us a call.
How to Encourage Your Employees to Eat Healthy
No matter what kind of company you run, it is always a good idea to promote healthy eating in the workplace. There are many benefits to eating healthy at work, including increased productivity and reduced stress. As an employer, you can take steps to promote healthy eating in the workplace. Here's how.
Educate your employees about healthy eating.

Some employees may not possess a lot of knowledge about proper nutrition. As such, it may be a good idea to create and promote educational campaigns for your workers. These campaigns may include newsletters, seminars and even hands-on cooking classes. Once your employees gain knowledge about the benefits of healthy eating, they may be more motivated to improve their diet.
Give incentives.

People are much more likely to reach their goals if they have rewards to look forward to. Therefore, consider providing your employees with incentives to reach their health and wellness goals. For instance, you could offer extra vacation time or free healthy meals. If employees know that there is a reward waiting for them, they may be more motivated to stick to their goals.
Provide healthy snacks.

Employees may be more likely to eat healthy at work if you make it easy for them. One way to do that is to provide healthy snacks in your office, like granola bars, nuts and apples. If employees can easily access these snacks in your office, they may be less tempted to go to the drive-thru for lunch.
Encourage employees to eat lunch together.

Eating healthy can be more challenging for some individuals. However, it can become a little easier if they do it in groups. Employees may be more motivated to eat healthy if others around them are eating nutritious foods. That is why it is a good idea to encourage your employees to eat lunch in groups in the break room.
Offer free healthy meals at meetings.

Employees are not always so thrilled to attend meetings at work. One way to entice them and encourage them to eat healthy is to provide healthy meals. If your employees know that you will be offering nutritious meals at the meeting, they may be excited about going. Your employees may also appreciate the kind gesture, which can improve morale in the office.
Free food has a powerful effect on office culture. Monumental Pantry Service keeps teams satisfied.
When you feed your teams, word gets around. Monumental Pantry Service can help tip the scales for prospective employees.
Our market is great! It's easy to use, always stocked, and open 24/7!
Mike Choutka - President, Hensel Phelps