Healthy Office Food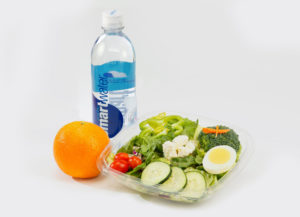 As a healthy office food provider, Monumental Markets has served thousands of customers in the Washington, DC area. Over the years we have seen an increasing awareness among business stakeholders that eating healthy leads to higher production and happier employees. In a nation dominated by fast food chains and empty calories, it can be difficult to find healthy food options. Monumental Markets makes it easy. We are a healthy office food provider that offers a comprehensive selection of nutritious and fresh products to the greater Washington DC area. Call us to learn more about our individualized solutions based on customer preferences and specialty needs.
Healthy Can Also Be Delicious
We are a healthy office food provider that understands the importance of eating food that is delicious as well as nutritious. Bland, stale, or otherwise unpalatable food does not motivate one to eat healthy. When products are healthy to eat but also taste good, that's a winning combination. If one does not consume a sufficient number of calories per day and meet the daily nutritional, mineral, and vitamin requirements, energy levels can sag. Morale can be drastically affected when the body is cheated of the healthy food it needs and deserves. This is why it's so important to choose the preferred healthy office food provider in Washington, DC.
Fresh Selection
As the leading healthy office food provider in Washington DC, one of our core strengths at Monumental Markets is our ability to regularly and consistently source fresh produce, fruit, and other snacks for our customers. Whenever possible, we will work with local growers and suppliers in support of our community and the freshness these sources offer. As much as is practical, we avoid product that is shipped to the city from afar, and instead we choose locally sourced goods to reduce our carbon footprint. Fresh tasting healthy foods encourage a more nutritional diet. Those who eat well are less vulnerable to developing illness and disease, and as a result lead more productive lives. This transfers to the workplace as well. Because our product selection is based on quality and freshness, availability varies but may include any of the following:
        Fruit

        Vegetables

        Nuts

        Crackers

        Sandwiches

        Beverages, including juice and coffee
Convenience
Washington, DC's top healthy office food provider delivers convenience but not at the cost of quality or health. We are a healthy office food provider that enables office workers the convenience of on-premises snack selections without the hassle of leaving the building. This means they do not have to deal with the inconvenience of driving in traffic, finding parking, and returning to the office, possibly encountering delays along the way, or having to shorten their lunch break. When meetings run over, or deadlines are looming, a healthy snack can prevent fatigue.
For your staff's convenience, we also offer delivery and restocking of our products. Our sales associates can arrive at your company at predetermined intervals to ensure your pantry does not run out of selections.
Contact Us Today
As a well-respected healthy office food provider of the greater Washington, DC area,  Monumental Markets can provide your company with the nutritional benefits your staff would like—call us today to learn more about our healthy product offerings.