Want to offer the best perks in town? Feed your team like they work in Silicon Valley? Monumental Pantry Service will stock your break room with all the yum your team could ever want.
Unlike our Open Door Markets, Monumental Pantry Service provides a fully stocked kitchen or break room at no cost to your team. Just pick your pantry items, and we'll make sure you've got everything you need to thrive.
contact us
Tell us what you want to spend, and we'll create an awesome spread that makes everyone smile.
Whether you want to focus on health or accommodate the gluten- or sugar-free, we offer what you need.
Healthy Food Vending Columbia MD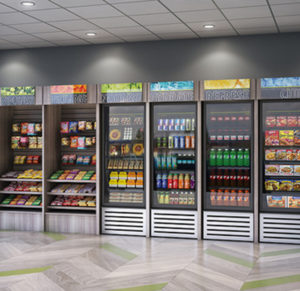 Are you looking for an alternative option for healthy food vending Columbia MD customers will love?
At Monumental Markets, we have recognized that the landscape of the vending industry is quickly changing. Not only are people becoming more informed about how their food choices affect their health, but they're actively seeking out new options for healthy food vending Columbia MD businesses might offer. We know that many businesses and organizations across the country have begun to respond to these changing trends by offering unique food and beverage choices. It's our mission, at Monumental Markets, to give organizations the resources necessary to provide meals and snacks that customers actually want.
If you've noticed that your employees aren't performing as well as they should be, this might be a result of unhealthy eating habits. Sure, the decision for each person to eat a healthy diet is one that ultimately must be made individually. But have you ever wondered if your organization could do more to encourage healthier lifestyle choices?
Physical inactivity is something that affects many students and office workers. Even though it may not be feasible to completely change a traditional desk job, employers can make a difference by encouraging employees to move around during breaks and eat in a shared dining space. Micro markets, like those offered by Monumental Markets, give you the flexibility to design a communal space for your employees to grab a quick snack and decompress before returning to their desks.
Socioeconomic status may also affect nutrition more than we realize. Research shows that adults who live in poverty are more likely to have poor diets as well. If you're committed to improving the wellbeing of your employees, don't just stop at giving them monetary incentives! Providing a variety of on-site healthy food vending in Columbia MD can encourage people to eat healthier snacks and meals all day long. And another major benefit of this? Healthier eating habits are also linked to lower healthcare costs.
Lastly, better nutrition is often linked to a more productive workplace. Healthier workers are more productive workers! According to recent studies, businesses pay an estimated $4.3 billion every year in lost productivity of workers who are ill. Preventable diseases and health conditions, such as diabetes and hypertension, are often associated with poor nutrition. As a leading provider of healthy food vending Columbia MD residents trust, the team at Monumental Markets knows that a small change in diet can make a big difference in your health.
Monumental Markets: Providing Alternatives for Healthy Food Vending Columbia MD Organizations Want
At Monumental Markets, we know that healthy foods are essential for successful business and school operations. Healthy living styles aren't just a fad; they're here to stay, and healthy meal plans are a major part of a well-functioning lifestyle. By providing your employees, customers, and students with healthier food and beverage choices, you're giving them the fuel they need to succeed.
Monumental Markets is proud to be part of this revolutionary dietary trend as a Columbia MD healthy food vending businesses can partner with. If your business is interested in joining us, we would love to develop a plan to offer your customers delicious foods that are healthy, affordable, and accessible. For more information about setting up your own micro market as an alternative to healthy food vending Columbia MD residents will love, contact Monumental Markets today!
Free food has a powerful effect on office culture. Monumental Pantry Service keeps teams satisfied.
When you feed your teams, word gets around. Monumental Pantry Service can help tip the scales for prospective employees.
Our market is great! It's easy to use, always stocked, and open 24/7!
Mike Choutka - President, Hensel Phelps