Want to offer the best perks in town? Feed your team like they work in Silicon Valley? Monumental Pantry Service will stock your break room with all the yum your team could ever want.
Unlike our Open Door Markets, Monumental Pantry Service provides a fully stocked kitchen or break room at no cost to your team. Just pick your pantry items, and we'll make sure you've got everything you need to thrive.
contact us
Tell us what you want to spend, and we'll create an awesome spread that makes everyone smile.
Whether you want to focus on health or accommodate the gluten- or sugar-free, we offer what you need.
HEALTHY FOOD VENDING WASHINGTON DC
6 Shocking Statistics About Eating Habits in the U.S.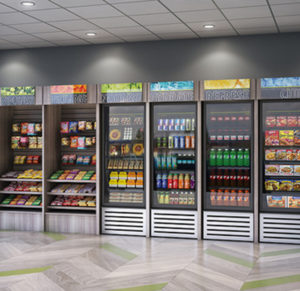 If there's one health food trend that's here to stay, it's providing a greater variety of alternative healthy food vending Washington DC residents can snack on. Many businesses, schools, and other organizations have already discovered the heightened demand for healthier meal and snack options. Our goal now is to make conventional vending machines a thing of the past!
At Monumental Markets, we believe that the process of finding healthy food vending Washington DC consumers want doesn't have to be a hassle. Conventional vending machines and fast food options have become so ingrained in American culture that it was once hard to imagine an alternative vending option packed with preservative-free foods. At Monumental Markets, our core mission is to break that mold and flood the industry of Washington DC healthy food vending with appetizing snacks that customers crave.
If your business or organization has relied on traditional "junk food" vending options, you may already be aware that conventional vending snacks are very unhealthy and can lead to an amalgam of health problems over a long period of time. If you've started searching for the freshest alternative healthy food vending Washington DC has to offer, you've already taken the first step toward helping your employees maintain healthy lifestyles.
Like many Americans, though, you might not realize just how prevalent unhealthy snack foods are, and just how many problems these food choices can cause. Our team at Monumental Markets is focused on providing convenient alternatives to healthy vending machine snacks Washington DC consumers want, and we also want to show our clients how big of an impact they make when they choose to offer healthier snack options. Did you know:
THE "FAST FOOD" ALTERNATIVES AND HEALTHY FOOD VENDING WASHINGTON DC RESIDENTS WANT
At Monumental Markets, we make it easier for businesses to provide healthier, appetizing food choices for employees and consumers — all without sacrificing the convenience and simplicity that conventional vending machines provide. For more information about how we help businesses provide alternative healthy food vending Washington DC consumers want, contact us today.
Free food has a powerful effect on office culture. Monumental Pantry Service keeps teams satisfied.
When you feed your teams, word gets around. Monumental Pantry Service can help tip the scales for prospective employees.
Our market is great! It's easy to use, always stocked, and open 24/7!
Mike Choutka - President, Hensel Phelps