Want to offer the best perks in town? Feed your team like they work in Silicon Valley? Monumental Pantry Service will stock your break room with all the yum your team could ever want.
Unlike our Open Door Markets, Monumental Pantry Service provides a fully stocked kitchen or break room at no cost to your team. Just pick your pantry items, and we'll make sure you've got everything you need to thrive.
contact us
Tell us what you want to spend, and we'll create an awesome spread that makes everyone smile.
Whether you want to focus on health or accommodate the gluten- or sugar-free, we offer what you need.
Healthy Food Vending Maryland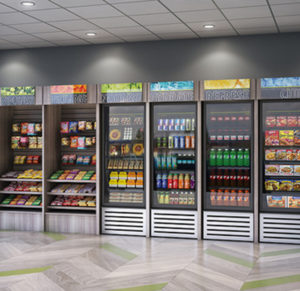 When searching for healthy food vending Maryland residents might not realize just how important it is to consume fresh foods. At Monumental Markets, we understand that it is essential for employees and students to have access to alternative healthy food vending Maryland can provide. Even when there is a demand for unhealthy "junk foods," businesses and schools might just find that after installing a micro market — one of the easiest ways of providing alternative healthy food vending Maryland trusts — there's an even bigger demand for healthy and nutritious foods.
Fresh Food Vending in Maryland
Research shows that when the average American adult eats more food prepared outside of the home than food prepared in the home, it is more likely that an individual will consume more "empty" calories and unhealthy foods. As any working adult might attest, these findings suggest worrisome conclusions! It's not always feasible or practical for working adults to prepare all of their meals at home. In the past, when it wasn't easy for businesses to provide alternatives to healthy food vending in Maryland, workers likely found it to be too burdensome to look for healthier food and drink options.
Research also shows that Americans are becoming more conscious of their nutritional choices than ever before, including when shopping for groceries and when purchasing pre-made food items. Researchers estimate that over half of American adults pay attention to nutritional information when it is provided on food labels.
The problem with consuming healthy food outside of the home, therefore, might not be wholly caused by individuals preferring to eat unhealthy foods. Instead, it's likely that many people would choose to eat meals and snacks comprised of fresh foods — but the real problem is that these options are not always available.
According to recent studies, the average American's diet exceeds the recommended amount of caloric intake levels in four different categories:
Added sugars and solid fats
Refined grains
Sodium
Saturated fat
Even more disconcerting is the fact that young children often develop poor eating habits at a young age. This same research found that for the average child between the ages of 2 and 18, approximately 40% of "empty calories" on any given day come from one or more of the following sources:
Soda and soft drinks
Non-carbonated fruit drinks
Dairy desserts (such as ice cream)
Grain desserts (such as cookies or cake)
Pizza
Whole milk
Maryland Express Vending Machines
As American lives are becoming more focused around schools and workplaces, it's up to these institutions to provide healthier alternatives to traditional fast foods.
One possible misconception that businesses and schools have, when deciding to provide unhealthy fast foods to workers and students, is that there isn't much of a demand for healthy food vending Maryland has to offer. In the past, some of these institutions have been more focused on making a profit by providing cheaper and unhealthier food choices. Nevertheless, it's clear that this misconception is not true — especially as more people choose to eat more of their meals on-the-go.
Contact Monumental Today To Get Healthy Food Vending in Maryland
At Monumental Markets, we're proud to make available alternative options for Maryland healthy food vending that organizations can depend on — even when their employees are pressed for time. Contact us today in you're interested in providing alternative choices to healthy food vending Maryland workers and students demand!
Free food has a powerful effect on office culture. Monumental Pantry Service keeps teams satisfied.
When you feed your teams, word gets around. Monumental Pantry Service can help tip the scales for prospective employees.
Our market is great! It's easy to use, always stocked, and open 24/7!
Mike Choutka - President, Hensel Phelps