Want to offer the best perks in town? Feed your team like they work in Silicon Valley? Monumental Pantry Service will stock your break room with all the yum your team could ever want.
Unlike our Open Door Markets, Monumental Pantry Service provides a fully stocked kitchen or break room at no cost to your team. Just pick your pantry items, and we'll make sure you've got everything you need to thrive.
contact us
Tell us what you want to spend, and we'll create an awesome spread that makes everyone smile.
Whether you want to focus on health or accommodate the gluten- or sugar-free, we offer what you need.
Fresh Healthy Vending Washington DC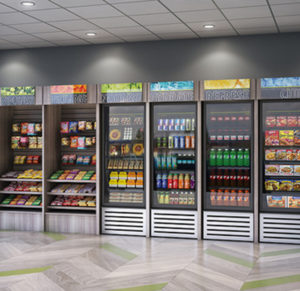 We Supply Healthy and Fresh Foods
Monumental Markets provides fresh healthy vending Washington DC employees and employers alike enjoy and appreciate. Contact us today at (301) 595-4909 to speak with a representative about how our services can be of benefit to your company.
Monumental Markets offers an innovative approach to providing snacks for employees. Using an automated, self-service market on site at your workplace, staff will have healthy food choices available 24/7. This includes salads, wraps, yogurt, and other delicious and healthy options, including customized menu selections.
Salad as a Smart Option
Studies have proven that worker productivity is much higher when they eat a healthy and balanced diet on a daily basis. Unfortunately, our busy schedules don't always allow sufficient time to stop at the store and prepare meals ahead of time. Monumental Markets make it possible to have convenient and affordable fresh healthy vending Washington DC office workers can take advantage of.
Monumental Markets understands the importance of having healthy food choices readily available. The easy but unhealthy alternative is junk food, which is convenient, but rarely offers real nutritional value. When looking for fresh healthy vending Washington DC residents often turn to fresh salads. There are many reasons why fresh salads are beneficial to eat. Here are four:
Fiber. Salads offer the benefit of providing much-needed fiber that our bodies need to stay healthy. Monumental Markets is an excellent option for fresh healthy vending in Washington DC. We make it convenient to maintain a high-fiber diet which can achieve the following:

Lower cholesterol levels.
Prevent constipation.
Gives the feeling of fullness, which can lead to weight loss.

Fruit, vegetables, and legumes offer additional benefits. These are popular in salads and not only are they delicious additions, they're also safe and healthy. At Monumental Markets, we pride ourselves on providing Washington DC fresh healthy vending solutions.

Salads that include fruit, raw vegetables, and legumes provide antioxidants, such as vitamin C, vitamin E, lycopene, folic acid, and alpha- and beta-carotene.
Eating fruits and vegetables can lower the risk of disease, including cancer.

Reduce caloric intake and increase weight loss. A salad with ingredients that total not more than 150 calories can be a filling meal, without necessarily contributing to weight gain. That's less than the number of calories that most meals have, especially meals served in fast food restaurants. Monumental Markets solutions encourage employees to eat healthy foods that maximize energy for productivity and are also delicious.
Smart fats. To achieve and maintain optimum health, the body requires a moderate consumption of healthy fat, such as the monounsaturated fat in avocados, nuts, and olive oil which can be included in a healthy salad. These are popular choices for fresh healthy vending Washington DC office workers prefer over junk food.

The United States Department of Agriculture's dietary guidelines recommend that adults should receive 20-35% of their daily calories from fat.
Healthy fat can help the body absorb protective phytochemicals. Tomatoes supply lycopene, and dark green vegetables provide lutein.
Choose Monumental Markets for Fresh Food and Healthy Vending in DC
Contact Monumental Markets today to discuss a customized solution for fresh healthy vending Washington DC companies choose for greater productivity.
Free food has a powerful effect on office culture. Monumental Pantry Service keeps teams satisfied.
When you feed your teams, word gets around. Monumental Pantry Service can help tip the scales for prospective employees.
Our market is great! It's easy to use, always stocked, and open 24/7!
Mike Choutka - President, Hensel Phelps