Want to offer the best perks in town? Feed your team like they work in Silicon Valley? Monumental Pantry Service will stock your break room with all the yum your team could ever want.
Unlike our Open Door Markets, Monumental Pantry Service provides a fully stocked kitchen or break room at no cost to your team. Just pick your pantry items, and we'll make sure you've got everything you need to thrive.
contact us
Tell us what you want to spend, and we'll create an awesome spread that makes everyone smile.
Whether you want to focus on health or accommodate the gluten- or sugar-free, we offer what you need.
Express Market Columbia MD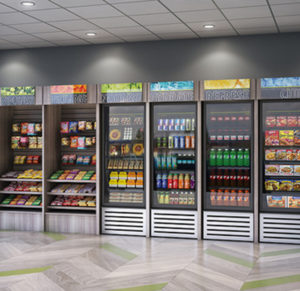 If you'd like to discover how an express market Columbia MD companies rely on for healthy snack choices can benefit your company, contact us at Monumental Markets. Our customized service options can suit the needs of your staff at any time of day or night.
Not every express market in Columbia MD offers healthy snack options, and in fact, many do not. Monumental Markets offers an innovative alternative to street corner markets that provide very few nutritional choices.
A Customized Express Market
One of the services that sets Monumental Markets apart from other snack suppliers is that we install an express market at your company's location, at no charge. Another major difference is that our market is an automated express market Columbia MD employees can take advantage of 24/7. This is especially convenient for those who work late, or who have an overnight shift. Generally, there are very few options open at that time, and fewer still that sell healthy snacks.
Our express markets are self serve, which eliminates the need to hire a cashier.
As part of our service, Monumental Markets keeps the express store shelves stocked, which means your company doesn't have to.
We leverage our buying power to maximize value, and only select the freshest snacks for our customers that are wholesome, natural, and nutritious.
Employees can access snacks from the express market at any time, which reduces the need to leave the premises. This can save them time, and reduce their driving, which in turn lowers their carbon footprint.
Studies have shown that eating healthy, nutritious snacks increases productivity and improves morale.
Can Convenient and Readily Available Snacks Also be Healthy?
At Monumental Markets, we make it our goal to provide the most convenient and healthy snacks possible to our customers. Fast food chains may indeed be fast, but the nutritional value of their product is questionable.
We have a thorough understanding of nutrition and the importance of a healthy diet. For each of our customers, Monumental Markets creates a customized express market Columbia MD employees can enjoy. Snack choices will depend on seasonal availability and customer preference. Popular choices include:
Lactose-free dairy choices
Gluten-free sandwiches
Vegan selections
Natural cheeses
Hard boiled eggs
Trans fat-free snacks
Saturated fat-free snacks
Low sodium options
Fresh fruit, vegetables, and fiber-rich snacks such as leafy green salads
It's All in the Details
Monumental Markets provides more than an express market Columbia MD workers turn to for healthy snack selections. There are many components to healthy eating and we keep these in mind when creating snack choices for our customers.
Portion sizes. Overeating is easy to do when portion sizes are large. We keep portions snack-sized so that snacks do not become a meal in themselves.
Healthy condiments and dressings. It's not enough to offer nutritional snacks if the condiments and dressings are high in trans fats, sodium, or empty calories. We make sure everything we offer in our express markets is healthy, as well as delicious.
Cooking methods. Just as the ingredients are important, so too is the cooking method. Monumental Markets does not provide fried foods or snacks prepared in ways that have been proven to be unhealthy.
A Good Choice for a Columbia MD Express Market
For companies that recognize the need for an onsite express market, Monumental Markets is an excellent choice. We offer heart healthy snack choices that companies and their employees appreciate and enjoy. If you're interested in a win-win situation, call us today to find out how an express market Columbia MD employers turn to can be the right choice for your company, too.
Free food has a powerful effect on office culture. Monumental Pantry Service keeps teams satisfied.
When you feed your teams, word gets around. Monumental Pantry Service can help tip the scales for prospective employees.
Our market is great! It's easy to use, always stocked, and open 24/7!
Mike Choutka - President, Hensel Phelps