Want to offer the best perks in town? Feed your team like they work in Silicon Valley? Monumental Pantry Service will stock your break room with all the yum your team could ever want.
Unlike our Open Door Markets, Monumental Pantry Service provides a fully stocked kitchen or break room at no cost to your team. Just pick your pantry items, and we'll make sure you've got everything you need to thrive.
contact us
Tell us what you want to spend, and we'll create an awesome spread that makes everyone smile.
Whether you want to focus on health or accommodate the gluten- or sugar-free, we offer what you need.
Express Market Columbia MD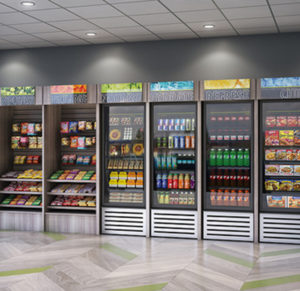 Installing an express market Columbia MD employees love is something that more businesses are starting to do. At Monumental Markets, we know just how popular these dining options have become. Regardless of a company's size or location, installing a micromarket for employees can provide numerous benefits. Not only is there a wide selection of food from a top-rated express market Columbia MD can provide; this on-site dining suite can also save time while increasing productivity in busy workplaces. Here's a quick look at why it's so important for individuals to consume a healthy diet of nutrient-rich fresh foods:
Fresh Food Vending in Columbia, MD
Dairy foods: Milk, yogurt, eggs, and cheese are some of the most popular dairy choices. Unfortunately, because these items need to be refrigerated, some Americans might not consume the recommended daily serving amount of healthy dairy products. With a refrigerated express market in Columbia MD, this isn't a problem!
Dairy products provide essential nutrients including: calcium; vitamins A, B12, and D; magnesium; phosphorus; potassium; protein; and riboflavin.
Certain dairy products, like cultured yogurts, even have probiotics that assist in digestive system functioning.
Vegetables: A colorful assortment of veggies in your daily diet can provide essential nutrients to build overall health throughout your body.
Dark leafy greens, like spinach and kale, are known to be high in fiber and vitamins A, C, and E.
Other vegetables, like tomatoes and peppers, contain nutrients like potassium and folic acid.
Meats, beans, and nuts: A comprehensive express market Columbia MD can provide should also have meals and snacks that include different meats, beans, and nuts. These foods are sometimes called the "building blocks" of human health because they assist in everything from strengthening bones to increasing muscle mass.
These foods often contain vitamin B12, vitamin E, and (healthy) fatty acids.
Fruits: With so many different kinds of fruit available today, it's not hard to find a variety of fruits that appeal to you. These items can easily complement any meal and they can serve as a sweet snack — without all the added sugars of processed desserts.
Fruit is one of the best sources of vitamins A and C in many diets. Additional nutrients commonly found in popular fruits include: potassium; folic acid; and powerful antioxidants.
Whole grains: Many snacks and prepared meals in traditional vending stations are packed with processed grains, which can be unhealthy when consumed in large portions. Simply choosing healthier whole grains and cereals can be a better option — and plenty of foods in your on-site Columbia MD express market can provide just that!
Healthy grains, like oatmeal and flaxseed, contain an amalgam of important nutrients. These can include: fiber; several B vitamins, iron, and magnesium.
Install An Express Market Columbia MD Employees Will Love
At Monumental Markets, we believe it's essential for businesses to pay attention to the overall health and wellbeing of their employees. When individual employees are healthy, it can help build stronger relationships among team members and higher-quality work performance. If you're interested in providing your employees with balanced meal and snack options, contact Monumental Markets today to discuss installing your own express market Columbia MD has to offer.
Free food has a powerful effect on office culture. Monumental Pantry Service keeps teams satisfied.
When you feed your teams, word gets around. Monumental Pantry Service can help tip the scales for prospective employees.
Our market is great! It's easy to use, always stocked, and open 24/7!
Mike Choutka - President, Hensel Phelps