Want to offer the best perks in town? Feed your team like they work in Silicon Valley? Monumental Pantry Service will stock your break room with all the yum your team could ever want.
Unlike our Open Door Markets, Monumental Pantry Service provides a fully stocked kitchen or break room at no cost to your team. Just pick your pantry items, and we'll make sure you've got everything you need to thrive.
contact us
Tell us what you want to spend, and we'll create an awesome spread that makes everyone smile.
Whether you want to focus on health or accommodate the gluten- or sugar-free, we offer what you need.
Alternative to Healthy Vending Company MD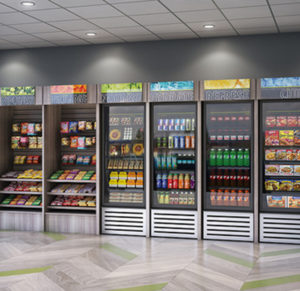 3 Simple Tips To Eat Healthier
When your employees decide that it's time to make healthy eating easier in your office, you might be interested in working with a top alternative to healthy vending company MD has to offer. At Monumental Markets, it's our mission to help businesses give their employees healthier eating options. Our fresh micromarkets provide businesses with their own free-standing food stations that are filled with a variety of fresh and delicious foods and drinks.
Working with Monumental Markets, a top MD health vending company alternative, is just one way to make nutritious meals and snacks easier than ever. Here are a few more quick tips to help you and your employees eat healthier:
Not all fats are equal. Some fats are actually good for you! Knowing the difference between "good fats" and "bad fats" is key when it comes to eating right. Saturated fats and trans fats are the "bad" kind of fats that you want to avoid. When you work with a skilled nutritionist or representative from an alternative to healthy vending company MD can provide, you'll be able to choose foods that are higher in unsaturated fats. These fats are often listed in Nutrition Panels as monounsaturated fatty acids, polyunsaturated fatty acids, and omega-3 fatty acids. Fish, nuts, beans, and avocados are all great sources of these good fats.
Instead of counting calories, focus on counting nutrients and vitamins.Let's put it this way: 500 calories from vitamin-deficient cookies are not the same as 500 calories from a whole-wheat wrap filled with fresh veggies, cheese, and cold cut meats. Some nutritionists even say that a "junk food" snack, like cookies or french fries, may be lower in calories than a nutrient-packed salad or sandwich — and yet, those junk foods are clearly less healthy. Unless otherwise instructed by a doctor or nutritionist, it's possible to create a healthier diet by focusing on foods that contain vitamin-rich ingredients.
Not sure which fresh foods will provide the right nutrients? Create a rainbow-inspired meal! The easiest way to make sure that your meal has a variety of essential nutrients is to pick fresh foods based on color. Dark leafy greens are just as important as bright red peppers and tomatoes; any regular banana-based smoothie is even better with a mix of berries, melons, or tropical fruits. Fortunately, the fresh food choices provided by an alternative to healthy vending company in MD often include a variety of foods in many ready-made meals.
Speak With a Representative From an Alternative to Healthy Vending Company MD Businesses Trust
If your business is interested in implementing healthier options than traditional vending machines, Monumental Markets is a leading provider of fresh foods through our innovative micromarkets. We only use the freshest foods in our selections so that healthier eating is both simple and delicious. By focusing on the health and wellness of your employees, you'll be able to create a wholesome working environment for your entire business.
For more information about installing your own customized micromarket from a top alternative to healthy vending company MD trusts, contact Monumental Markets today by calling us at (301) 595-4909.
Free food has a powerful effect on office culture. Monumental Pantry Service keeps teams satisfied.
When you feed your teams, word gets around. Monumental Pantry Service can help tip the scales for prospective employees.
Our market is great! It's easy to use, always stocked, and open 24/7!
Mike Choutka - President, Hensel Phelps