Touchless Vending Machines VA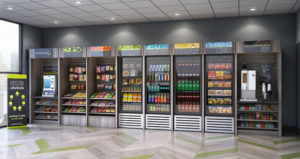 If you are looking to install touchless vending machines VA in your business, the service at Monumental Markets has everything that you need. Whether you want custom coffee from local vendors, a full-service market,  or a completely revamped break room, we offer quality vending services for your shared space that's fit for your growing company. Having access to a wide range of food and beverages does a lot for boosting energy and productivity throughout the day.   
Touchless Vending Machine in VA
Having served over 400 businesses and counting, Monumental Markets is a leading provider of vending and pantry services for many businesses within Virginia. Established in 1991, our company has helped workers and companies thrive with our unique and personalized services that include pantry services, custom break rooms, coffee services, fruit delivery, and touchless vending machines. We can help you create a better workspace and communal environment that your team will love. Learn more about how you can give your space an upgrade by contacting our office today. 
Delicious Food That Fuels You
Studies show that employees' productivity increases significantly if they have access to food and drinks. With touchless vending machines offered by Monumental Markets,  your team can enjoy a wide variety of food and drink options that they will appreciate and enjoy. They don't have to settle with boring choices that are bland and unappetizing. Our large menu has items that represent a variety of tastes. Choose from an endless list of food items such as snacks, lunch items, salads, and more. 
Pantry Service. Provide your whole team with a fully-stocked kitchen filled with a diverse range of snacks and beverages. We will work with your budget to create an amazing layout that's ideal for your space. 

Open Door Market. Workers don't ever have to deal with a boring meal or snack again. With 24/7 access to our custom market, they can have a quick bite at any hour. 

Fresh Fruit Delivery. If you want fruit on the go, we have a delivery service that will send a variety of fresh fruit right to your door. You can even arrange for your delivery to come every week or every other week. 

Delicious and Healthy Alternatives. We have nutritious choices for individuals with dietary restrictions, such as gluten-free and sugar-free options.
Convenient and Contactless 
No-contact vending machines are an excellent addition to your break room, especially during these challenging times. Our vending machines comply with the latest Covid-19 safety guidelines, which make them a suitable alternative to traditional vending machines. Workers can make the most out of their breaks so that they can conveniently get back to their day's action items.  
Our easy-to-use vending machines feature an advanced payment system that makes transactions much more efficient and hassle-free. To access our touchless vending machines, workers can simply scan their cards or use their phones to pay for their purchases. You don't have to worry about losing change or dealing with run-down machines. 
Learn More About Our Services
If you are would like to learn more about adding touchless vending machines to your Virginia-based company. Contact us at Monumental Markets, today.