Refrigerated Vending Machine VA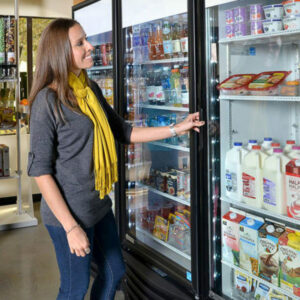 For high-quality Virginia vending services that include refrigerated vending machines, customers can turn to Monumental Markets to fulfill their needs. A workspace or office that is equipped with snacks, refreshments, and other items can bring a team of any size together. Create a better company culture, boost productivity, and have a more social, welcoming environment by installing one of our food displays or vending machines at a minimal cost. You can choose from one of our many services, such as open door micro-markets, pantry service, coffee service, and more. Learn how you can elevate your area by contacting us today. 
Refrigerated Vending Machine in VA
Many studies have shown that there is a strong link between convenient access to food and worker productivity. When companies provide their teams with snacks and refreshments, there is a dramatic improvement in workflow efficiency, social interaction, and overall company atmosphere.
Our mission at Monumental Markets is to make your company flourish with the addition of food services that can uplift your whole team and optimize their in-office experience. We have served over 400 businesses by installing micro-markets in their break room, restock their kitchen with high-quality items, or providing energizing coffee service. We also serve property owners who are looking to add an amenity to retain current tenants and attract future ones. Customer experience and satisfaction are at the center of our mission. If you are a business or property owner who is interested in how vending services can revitalize your space, contact us today. 
State-of-the-Art Vending Services 
Too often workers have limited options when it comes to food and drinks. Many workers resort to visiting the nearest convenience store or restaurant a few blocks away, cutting into valuable break time. With our specialized vending services, you don't have to step outside of your office building to purchase a tasty snack. Whether you want a yummy treat or a healthy alternative, we can fill your market with your preferences. 
We make sure that your market is always stocked with the freshest food and drink items. As a company that provides refrigerated vending machines to the top businesses in the Virginia area, we pride ourselves on offering freshness, quality, and convenience that everyone on your team will love. 
No matter what food or drink preferences your team or tenants have, we can provide them for you. Boring meals and snacks can be a thing of the past. From bite-sized snacks to prepacked meals, we can include them in your inventory. Options that are suitable for those with dietary restrictions such as gluten-free, sugar-free, and low-calorie items are also available at your request. 
Our quick and efficient payment system makes transactions are simple. Our vending machines are contactless and cashless. Use your phone or scan your card to make a payment and you can be on your way. Safety is a top priority for us, and our contactless vending machines are fully compliant with the latest Covid-19 guidelines. 
Revamp Your Space With Custom Vending Services
Call us today if you want to know how you can bring refrigerated vending machines VA  to your office or building.