Prepackaged Food Vending VA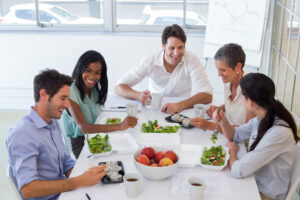 As a company that has helped hundreds of businesses in Virginia utilize prepackaged food vending, Monumental Markets offers has unique services that provide a boost to efficiency and productivity. Having accessible, varied food and beverage options that are just a few floors have had a positive impact within the workplace, making them better for the entire team. Our company specializes in installing micro markets, vending machines, and other services for your office or building so that your whole team can 
Prepackaged Food Vending In VA
Serving Virginia-based businesses since 1991, Monumental Markets offers food services to companies and their team members. We believe that businesses benefit from having well-stocked mini-markets, kitchens, and break rooms,  and have a profound impact on productivity and company culture. We have a variety of services available such as open door markets, customized break rooms, contactless vending machines, coffee service, and fruit delivery. We work with your budget so that you can build the ideal community space for your business or property. Contact us today to find out more about our services. 
Our vending services are available for both business and property owners. If you are a property owner and are considering upgrading your shared space for tenants, give us a call. Elevate a shared community space so that you can wow visitors and attract potential tenants. 
Upgrade Your Office or Break Room 
Create a space that promotes community, innovation, and inviting company culture. If you are looking to give your break room a makeover, we can help you design a complete layout that features vending machines and food stands. You tell us your team's unique food and drinks preferences and we can develop a market or pantry that's made just for them. If you aren't looking to add a micro-market or custom kitchen for your space, we also offer convenient smaller-scale options such as artisanal coffee and tea service featuring local vendors, as well as fresh fruit delivery that your whole team will enjoy. 
Endless Snacks and Beverage Options
Access to delicious snacks and appetizing meals allows workers to stay energized and productive as they go through their day. With our vending services, you don't have to resort to costly takeout that can quickly add up. We keep your market, kitchen, or pantry fully stocked 24/7 so that you can enjoy delectable snacks and meals at any time of the day. Whether you want a healthy granola bar or a nourishing meal, we have endless options for you to choose from. 
With a market or pantry right in the building, workers or tenants don't have to leave the premises to enjoy a tasty snack or refreshing drink. Whether they are looking for a quick bite or a complete meal to enjoy, our markets have everything your team needs, at any time of the day. They can have grab-and-go snacks at their convenience, regardless of their schedule. 
Custom Vending Services For Your Building
Upgrade a shared space for your office or property today. Give us a call at Monumental Markets, and learn more about how we can help you install a machine prepacked food vending VA.