Pantry Service Chantilly, VA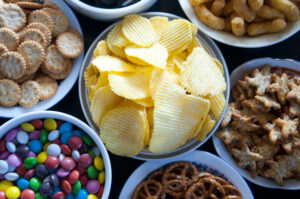 If you run a business, you may need the help of a pantry service Chantilly, VA workers rely on from Monumental Markets. Face it. Most people love to snack. In fact, not only do people snack when they're hungry, but they snack to be social too. Americans love to have snack food and enjoy having different options so that they can get the energy they need to keep pushing through the day and so that they can appropriately break the day up. However, many offices don't offer great snack options. Most offices may have vending machines but the same old food can get boring day in and day out. Even worse, most vending machines are not properly equipped with the settings needed to store healthier food options, so they end up having sugary bars and candy. While it can be nice to have some sweets as a treat, many people, if given the option, would actually prefer something healthier. This is where Monumental Markets comes in. We pride ourselves on knowing exactly what you want, because, well, we ask! To see what kind of Chantilly, Virginia pantry service we can offer your business, call us now!
How can we change up your work-day snacking?
When you go to the movie theater you may be excited to indulge in your favorite candy. Come Halloween, you may be eyeing that chocolate candy bar. On a typical day though, most people would rather have healthier, tastier options that last longer than a candy bar (and give you less guilt). We believe in satisfying your cravings with food that is good for the body and the mind with our pantry service in Chantilly, VA. 
What makes our snacking better?
We believe that better snacking means having more options. While too many options can be overwhelming, we want to speak directly with you to determine exactly what kind of snacks your office needs. We have even partnered with AHA to ensure that you are getting much healthier (but equally as delicious!) snacking options so that you can munch while you work. 
How is it more efficient?
Our pantry service in Chantilly, VA brings in fresh food that gives you and your colleagues the ability to have products in constant rotation. This means that snacks are not getting old and stale and that you are getting the exact right amount of food for your office. You do not have to worry that your colleagues or employees are going hungry or that you will be throwing food out. If your office continues to grow, all you have to do is speak with us about upping your snack numbers! 
When it comes to delivering snacks, we're the team you're looking for. We provide great food for your office that can bring your employees closer together and encourage healthier eating that is still just as delicious. For more information on how we can help out your office with our pantry service Chantilly, VA workers love, contact Monumental Markets now!