Office Meal Service, MD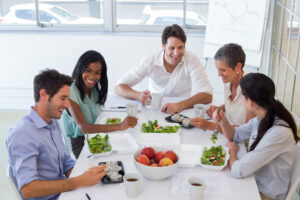 Food plays a huge part in our lives, and that is why we shouldn't ignore it at work but instead consider an office meal service MD companies rely on. If you've ever felt hangry then you know that food can have a huge impact on your mood. It isn't really a coincidence that food and mood are just a letter apart after all. 
Think about it. You are going to have good food, like a healthy meal on a winning it kind of day. However, on a bad day or frustrating day at work, you are likely going to reach for that tub of ice cream to soothe your emotions. 
So, with that why ignore it at work and settle for a brown bag or have to go get fast food? You shouldn't. 
Using Food to Foster Company Culture 
When people go to work they don't want to be seen as just a cog in the machine. They want a company that cares and a place to work with people who care too. Food plays a huge role in this aspect as food brings people together. 
Think about it. What do we all do during the holidays with family? We eat with them. Food brings people into social situations and in the workplace this is important. You want your employees to build relationships with one another and with their employers too. It brings together a sense that people from the top do care about the people at the bottom. Millennials especially expect more from their workplace and food is a great way to foster a strong connection. 
Healthy Food and Team Productivity 
Having healthy food options in the workplace is becoming a big factor in if people want to stay and work there or not. According to the Allegra Health and Wellness Summit, about 27 percent of employees say that having access to healthy food and drink options is the best way their workplace can support them. 
A range of healthy food is the way to go, as it allows people to get what they enjoy eating without neglecting the needs of others. It allows for the group to come together and enjoy a meal together without the worry that someone can't join. 
Keeping in mind the needs of everyone fosters the team's productivity. It allows for them to get together and work even while eating. No one is going to have to rush out to find lunch and miss something if there is a place to go where everyone can at the office. Time is money after all, and leaving for lunch can feel like a waste of time. 
Think of it as a meeting, but it doesn't feel like one. It is just a group of people getting together for lunch and enjoying it, but staying productive at the same time. 
Finding the right balance doesn't have to be hard. If you are searching for an office meal service in Maryland then contact us at Monumental Markets for answers to any of your questions. 
Benefits of an Office Meal Service
As a business owner, it is important to keep your employees happy. Happier employees are more likely to stay with a company for the long haul. One way to do that is offer them free meals several times a week. Here are a few benefits of an office meal service.
More successful meetings.

It is necessary for companies to hold meetings periodically. However, employees are not always thrilled about attending these meetings. An effective way to entice your employees to go to these meetings is to provide them lunch. They may be much more excited to attend a meeting if they know they will be receiving a free meal. Employees may be more likely to participate in the meeting and offer their suggestions.
Better productivity.

No matter what type of business you run, you want your employees to be productive. Providing them with healthy meals can increase their productivity. After all, after most people eat a nutritious meal, they feel stronger and more focused. 
Less employee turnover.

It is an employees' market nowadays. Employees expect to be treated well at their workplace and may go elsewhere if they're not satisfied. If you offer your employees benefits they actually want, they may be more likely to stay with your company for a long time. It turns out that many employees appreciate getting healthy food at work.
Save money.

At first, it might seem like providing your employees with office meals will be quite expensive. As a business owner, you have to be careful about how much money you spend.  However, you may be able to save more money in the long run. When your employees eat nutritious food, they may become sick less frequently and take fewer sick days throughout the year. They will be more productive, which may help your company generate more revenue.

Cater to dietary requirements.

Whether it is vegetarianism or gluten allergies, some employees may have certain dietary requirements. They may have to spend a lot of time every week preparing their meals. If you use an office meal delivery service, you can cater to your employees' dietary requirements and help them save time and eat nutritious meals. They will be able to share meals with their coworkers and not feel ashamed that they have to deny certain foods.
Five Reasons You Should Eat Lunch Away From Your Desk 
One of the best things you can do for office culture is to hire an office meal service MD business owners trust to provide delicious and nutritious meals to employees. There are so many benefits to hiring a meal service, but one is that it increases the likelihood of creating an office culture where people eat away from their desks. Think about it. Having access to delicious food is one of the biggest barriers to getting employees to eat away from their desk. But why should you care if employees chose to eat at their desks? Here are three benefits to eating away from the desk that you may not know: 
It fosters mentorship.

It's sad to think about, but your most senior, knowledgeable employees are eventually going to move on. Whether it's retirement or to a new position, transition is a part of any office environment. And when those knowledgeable individuals leave, it can leave a knowledge gap in your organization. But when employees, and even senior managers, make time to eat their lunch away from the desk, it makes them more accessible. While they may sit next to junior employees and discuss something mundane, such as weekend plans at lunchtime, they may make a connection that carries outside of the lunchroom and into the office. These simple, non-work related conversations create a connection and relationship that makes both parties feel comfortable to broach the subject of mentorship.  It may even make the more senior employee seem more approachable, fostering the safety needed for a junior employee to ask more questions. 
It builds relationships.

Depending on your organization size and structure, people may frequently work together, but rarely see each other. With the rise of flex working and personnel only in the office on certain days, the lunch room may be the only place people see each other in person. While employees can certainly do a lot remotely and over email,  by creating an environment for your organization to come together through an MD office meal service, you are facilitating inter-department communication. This can lead to increased teamwork and even help promote understanding between colleagues of the roles of other departments. 
It allows for informal networking.

Everyone knows building a network is important for any type of business, but often people do not think about how many opportunities for networking are lost when employees eat at their desk. Simply by having employees around the same table, they will naturally hear about openings in different parts of the organization and may know someone perfect to fill the vacancy–or they may be a good fit themselves! Networking is beneficial for employees because it can lead to new opportunities within the organization, but also for employers because it can help them find the right candidates for open positions, sometimes from people they already know!
Do not wait any longer to start cultivating a vibrant, mutually beneficial, eat away from your desk culture and contact an MD office meal service employers trust, Monumental Markets. Monumental markets can help you cater the perfect blend of healthy and tasty food to keep your employees fed.