Office Meal Service, DC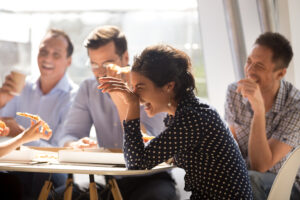 It may come as a shock but over a third of people rank office food as their top three work perks, which means an office meal service DC businesses rely on is a great perk to have. Food plays a big part in everyone's lives and this means that the food in the workplace is equally as important. In order to understand the role food plays in a company's overall culture and what matters when it comes to meals and snacks read on. 
Food Can Improve Workplace Culture 
After a rough year, many employers are refocusing their efforts around creating a safe and happy workplace environment for their teams. This means making a focus on a shared food space experience. 
When people have access to meals and snacks in the office the level of happiness goes up. This also allows for a place to have employees build stronger relationships. Many employers out there, about 90%, have found that creating a place for employees to enjoy meals together or snacks makes it easier to see better relationships. 
Not only that but efficiency is key now more than ever. Employers are finding that if you provide the meal it saves your employees time by not having to leave to find lunch. Often this means they don't have to put a pause on work to find lunch and ruin the work flow. Not only that but it is also considered to be a money-saver if the office is providing the meals or snacks. 
What Do Employees Want? 
When you consider finding a food program you need to know what your employees are looking for. Asking them is the easiest way to go about it, but here is the general idea of what employees are typically looking for in meals at the office. 
Many employees are more health conscious than ever and find that having access to healthy snacks is important. Not only that but many have found that having the office providing snacks helps them stay healthy as well. Dietary restrictions are also important, meaning having a variety of food is extremely important. It allows for no one to be left out and that means no one has to leave to find food and waste time. 
While meeting needs can be hard, there is also the need for variety. No one wants to eat the same thing every day, so having a way to change it up is good. That is where an office meal service comes into play. They can offer you a rotation of food but also keep it healthy. 
Plus, knowing what is going into the meal is also a big deal for employees. They want to know what their food is made from so they can make a conscious effort to eat better. 
Luckily it is easier than ever to find a way to bring quality food to your office for you and your employees. The team at Monumental Markets is ready to answer any of your questions about an office meal service in DC.