Office Meal Service DC, MD, VA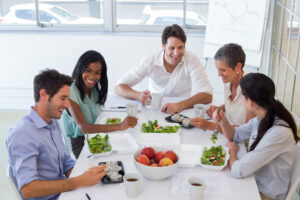 Monumental Markets has been providing office lunch services for DC, MD, VA communities since 1991. We know that lunch catering is more than the occasional party for a job fabulously done. Providing lunch even one day a week can have positive impacts on your employees, work morale, and productivity. Offering free lunches to the workplace on a regular basis is likely to yield the following benefits:
Better Workflow
Eating lunch, and a healthy one, is particularly important. When we have nutritious food to eat, we are giving our bodies what it needs to get us through the workday. In fact, did you know that employees who enjoy a healthy lunch get more done and are more focused throughout their shift? If you ask our MD, DC, VA office lunch services representatives, we think that surely pays for the meal in itself!
Better Meetings
Meeting with employees over lunch can lead to incredible results, as it sets an incentive for attending and makes workers feel appreciated. Don't be surprised to see that your workers are more engaging during a lunch meeting compared to other times. Offering lunch prevents employees from being tempted to do other tasks on a laptop or check their cell phone, since they'll have a yummy meal in front of them instead!
Better Connections
Workplace dynamics are stronger when there are personal connections between people. These relationships can be difficult to establish when everyone is busy during their shift, which is why lunch catering can build and enhance connections. Employees are more likely to hang out together over their lunch and chat about things other than work. They are more inclined to build new relationships with workers from other departments, further strengthening collaboration among the team. 
Better Employee Turnover
Dissatisfaction in the workplace is the primary reason for turnover at a company. You can help reduce yours by offering perks to employees that they actually want. Who doesn't love food? Your food delivery service should be able to accommodate dietary restrictions and allergies as well, so everyone at the office can enjoy it. 
Call Monumental Markets
If you are interested in starting a food or coffee delivery service for your workplace, don't hesitate to call Monumental Markets to learn more about our VA, DC, and MD office lunch services!