Office Lunch Service, DC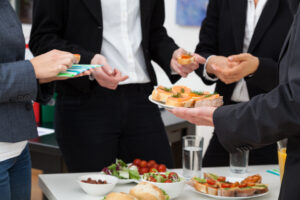 Employees spend about a third of their weekdays in the office which means an office lunch service DC companies rely on could change the way they eat. It isn't a shock that eating healthy allows for more energy but what if that isn't accessible because of busy work life? 
That is where a lunch service comes in. In many workplaces for busy employees, they are lacking the time and motivation to give a second thought to eating healthy. All of their work duties and responsibilities come long before they decide to eat something that not only tastes good but is healthy too.
Healthy Food and The Work Place 
Many people find it challenging to eat a balanced diet when they are busy. When you have a full day of tasks to complete it can be hard to remember to bring a lunch with you or figure out what you are going to eat. Typically it is going to end up being grabbing the fast thing possible rather than finding a healthy option. 
It also isn't a shock that many Americans are at risk for some kind of cardiovascular disease because of poor food choices. High blood pressure is also a growing concern. This can lead to a heart attack, heart failure, or even a stroke. In many cases, it is preventable by changing what you eat and getting some physical activity in. 
Providing a way for your employees to get healthy fresh food is just the start in helping them stay healthy. As it has been shown that there is also a close relationship between diet and mood. 
When diets have a high glycemic load, like things found in soft drinks, cakes, bread, and biscuits people run the risk of having increased symptoms of depression and fatigue. Anyone with depression or fatigue can attest that this makes working harder. When you aren't in a good mood you don't want to do your daily tasks or even bother working. It takes more effort than you can give. 
This can mean decreased work productivity, which can lead to the whole company suffering if more and more people feel this way. Offering a way to get healthy food to keep the energy up and allow people to pick what they want is a great way to help improve the mood. Not only are you providing a way to get food but you are also showing you care for your employee's health and wellbeing in the long run. 
Think about it for a moment. When you feel good, you have a better mood and you feel you can do more. The same goes for many of your employees. When they feel good they can get their work done and still have energy. And with an office lunch service in DC, they don't have to sacrifice their time to head out of the office to find a healthy meal choice. 
If you are looking for an office lunch service in DC then contact the team at Monumental Markets for more information about what we can do for you today.