Office Lunch Service DC, MD, VA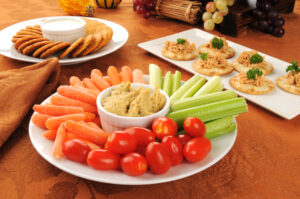 If you are looking for an office meal service in DC, MD, VA, then search no further than Monumental Markets. You may have wondered about the kind of ease your day would entail if you had a delivery service in charge of supplying coffee, meals, and snacks right to your office door. To help you decide for yourself, here is a compiled list of the benefits you are likely to experience if you choose to hire our meal service company for your workspace: 
Saves You Time, and Money
Meal delivery services can cater to your customer needs. The goal of delivery services is to lower the time spent going out to grab food or prepare meals. If there are specific food allergies or dietary restrictions, be sure to communicate this with your chosen delivery service. The main advantage of this form of food service is the efficiency and convenience of providing coffee and food to employees.  
More Gentle on the Pocketbook

It may appear like a more expensive investment initially, but when you add up the money used on fresh ingredients, spices, and coffee supplies, you are saving money overall by using an office meal service. Furthermore, this type of service can accommodate needs based on preference and number of people, so that there are no wasted food or other items. 
Healthy and Indulgent Options to Pick From
Delivery services are built to meet the needs of the body and mind. These delivery professionals can provide ideal proportions of vegetables, carbs, protein, and caffeine. When workers have quick access to healthy and indulgent options, in addition to coffee, then they have the sustenance and energy required to function at their very best. 
Expands Your Taste Buds
By choosing an office delivery service, you can try recipes you may not have otherwise. Employees are sure to find the variation yummy and new, so it's a perfect way to expand the taste buds and palate for things that are outside of routine habits.
Contact Monumental Markets Today!
At our company, we have been innovating the workplace food experience for many years. To learn more about how we can provide deliciousness and affordability for you and your employees, contact our DC, MD, VA office meal service from Monumental Markets today!