Office Beverage Service DC, MD, VA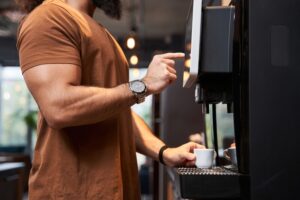 Offering perks like stocked pantries, snacks, and beverage services in DC, MD, VA offices can provide various benefits for companies who are in the process of transitioning back to the offices after a lengthy period working primarily from home. Monumental Markets offers a range of services to area businesses that are looking to improve the employee experience. Our team from Monumental Markets can customize services to meet the needs of your budget, your office, and your staff. Understand there are many benefits to this offering in the office setting:
Benefit #1: Support the Return to the Office 
As more and more people return to office across the country, the transition may be a difficult one for many employees. Over the past 18 months, people have become accustomed to the work-from-home lifestyle. While some companies may only ask employees to return in person part-time, others may need to be at the office daily. One way to support this transition to the office is by offering snacks, coffees, and lunches so that employees returning to work don't have to worry about packing a lunch every day. Keep in mind that this doesn't necessarily have to come at a cost to the company. We can help develop grab-and-go markets that come at very little cost to you. 
Benefit #2: Improve Teaming & Morale
Offering stocked pantries, open-air markets, and office beverage services in DC, MD, VA can keep employees happy as they won't have to face the distraction of hunger pains or the frustration of stepping out to grab lunch. Additionally, having food available is another way to assist in morale and team building as employees will have the ability to naturally co-mingle. 
Benefit #3: Happy Employees Are Loyal and Committed
Happy employees have a direct impact on retention, morale, culture, and productivity. As an employer, it's your job to develop a culture where employees can thrive. Over time, these benefits can play a key role in your companies' bottom line. Consider the cost to train and recruit new employees when turnover in positions is high. Productivity is another component of the workplace that can be deeply impacted when morale is low, or turnover is high, leaving vacancies in open positions. While we don't believe offering perks like snacks, lunches, and beverages will improve every aspect of your business, starting with something small can be a place to start. 
Employees who are experienced and highly sought after will have the flexibility to choose their employer. Added perks that support employee interaction, team building, morale, and more are key to obtaining and retaining top talent. Additionally, young professionals new to the workforce will be looking for companies that have offerings in support of healthy lifestyle, positive work-life balance, flexibility and even snacks that are sustainably sourced and healthy. At Monument Markets, we can help play a small role in helping to improve your company's office culture. 
Learn more about our many DC, MD, & VA services, including our office beverage service, by reaching out today.