Avenue C Vending DC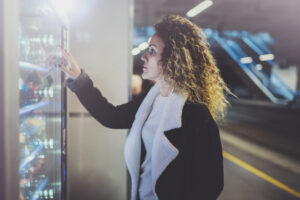 If you are looking for a new way to offer your employees nutritious food and snacks, consider Avenue C vending DC residents trust. The new technology can be useful for a wide range of offices. Here are some of the advantages of having Avenue C vending at your office.
Provide Healthy Food Options
Traditional vending machines typically only offer junk foods, like chips and candy. That is why Avenue C vending is a step above the rest. It also offers healthy options, such as salads and sandwiches. Employees who want to eat healthily can enjoy a number of nutritious options with Avenue C vending. The food in these vending machines is also fresh, so your employees never have to skimp on quality and taste.
Have More Holding Capacity
One of the last things you want is to run out of food in your vending machine. Well, with Avenue C vending, you are unlikely to do that. These machines can typically hold over 100 food and beverage items at a time. Therefore, you do not have to refill them as often as other vending machines.
Provide Multiple Ways to Pay
Traditional vending machines only allowed you to pay with cash. If you did not have any cash, you were out of luck. DC Avenue C vending, however, gives you multiple ways to pay including, cash, debit and credit cards. If they so desire, employees also have the option of purchasing items through their smartphone.
Reduce Outside Trips
Many employees these days walk down to the local grocery store or restaurant to get a bite to eat. However, if they are really swamped with projects or the weather is not so nice, they might not feel like leaving the office to go get food. With Avenue C vending, they will not have to. These vending machines have so many food options, so employees may feel less tempted to go out for lunch or snacks.
Increase Productivity
When employees leave in the middle of the working day to get food for themselves, it can take time away from their projects. As a result, they may fall a little behind at work. You definitely do not want that to happen. By offering Avenue C vending, however, you can prevent this from happening. Employees can just walk into the break room to get food, which may only take a few minutes. They can be more productive at work then.
Boost Employee Morale
As an employee, you always want to find different ways to boost employee morale. After all, if they feel appreciated, your employees may stay longer with your company. If you invest in Avenue C vending, you can show your workers that you truly care about them and want to make their day at work easier. 
If you are interested in having DC Avenue C vending in your office, you may want to contact Monumental Markets for more information about the service.