Benefits of Having an Office Pantry Service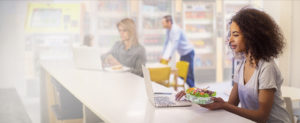 Office pantry service offers many benefits beyond the most obvious one which is convenience, which is essential in Tysons, VA. A customized office pantry service can greatly contribute to a positive company culture and morale. Monumental Markets customizes the products we deliver to reflect your company's wishes. Depending on your preferences, that might include fresh fruit, fresh sandwiches, vegetarian selections, candy and cereal dispensers, and so much more.
Individualized Office Pantry Service for Your Company
Every company is different based on the unique needs of its employees. Your staff may have preferences based on religious need, cultural differences, dietary restrictions, or lifestyle choices. Tysons, Virginia's office pantry service of choice offers a wide range of products and office pantry service packages that can please the various palettes of your employees. Give us a call to learn more about our individualized pantry solutions.  
Healthy Office Pantry Service Options
The office pantry service Tysons, VA companies calls first understands the importance of eating healthy. Not only does it feel good, studies have shown that a healthy diet provides the nutrition necessary to obtain optimum health and productivity. We offer office pantry service that can include particular types of food that are non-GMO, gluten-free, sugar-free, peanut free, or organic, among other choices. Talk to us about which nutritious beverage and food options you are interested in having delivered to your office pantry.
Delicious Coffee
Many of our customers choose to include delicious and quality coffee choices in their office pantry service selections. Our office pantry service out of Tysons, VA offers fresh and popular brands that may even include your local roaster, when available.
Quality Service You Can Count On
Monumental Markets offers office pantry service to Tysons, VA with an emphasis on service. Service includes tailoring the products to a company's needs as well as making sure that your office pantry remains well stocked and clean. Our sales representatives are attentive to customers' needs; we are always open to modifying your service as per your request. If your staff grows or downsizes, if you open new offices in other locations, we can scale our office pantry service as needed.
Aesthetics Matter
Looking good is an important aspect of an office pantry service. Monumental Markets builds pantry solutions that are well-built and attractive. As with the products we offer, we provide customized pantry builds that works with your office space, not against it. This includes bin solutions, racks, and extra stock storage boxes. Our sales representatives work hard to upkeep the pantry area during visits to help your office pantry service area look pleasing.
Boost Productivity and Morale
Studies have shown that eating healthy on a consistent basis can lead to increased levels of energy and a more positive outlook. In a workplace setting, this can translate to higher productivity and better morale. A happy workplace can retain employees longer which in turn can further increase productivity. A company's costs are reduced when turnover is lower because retraining new employees can be cost-prohibitive. Keep your team motivated and healthier by offering them office pantry service from Tysons, VA's preferred vendor.
Contact the office pantry service companies in Tysons, VA call first, Monumental Markets, to learn of the many benefits an office pantry service can offer to your company.